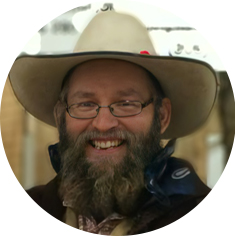 January 7th, 1976 – September 27th, 2020 
Wade Corey Johnson passed away on Sunday, September 27th, 2020 in Moose Jaw, SK after a lengthy and courageous battle with cancer, at only 44 years of age.  One more time that cancer has won, but not without a fierce fight by a good man.  
Wade will be missed dearly by his wife and children: Laurel, Lilly and Gilbert; father, Keith (Marlene); mother, Doris Amrud; brother, Warren (Adrienne); sister, Heather (Chris) and their children Elle and Nash; as well as many extended family and friends.    
As Augustus McCrae said: "It doesn't matter where you die, but where you live".  Wade lived to follow his passion for animals and the outdoors.  Dogs, horses, sheep, cows, fishing, hunting, riding… that was where he was in his element.  He lived to have horse hair stuck in his sweater or sheep crap on his boots.  Wade lived to go on that next fishing trip, or to be tracking a monster whitetail buck, or to make sure that cow calved without trouble.  Wade lived to hope that Lilly and Gilbert would follow in his footsteps to love nature and animals as much as he did.  He lived with dreams of ranch life for his family.  Wade lived in the moment, without worrying where or when he died.
A Celebration of Wade's Life will be held on Saturday, October 24th, 2020.  Please contact Laurel Johnson for more information: on Facebook, sevenpineslaurel@hotmail.com, or call/text 306-737-3533.  As an expression of sympathy, donations in Wade's name may be made to the Saskatchewan Cancer Agency at www.saskcancer.ca or the Kinsmen Foundation Inc. at www.telemiracle.com.  Arrangements are entrusted to Moose Jaw Funeral Home, 268 Mulberry Lane.  James Murdock, Funeral Director 306-693-4550