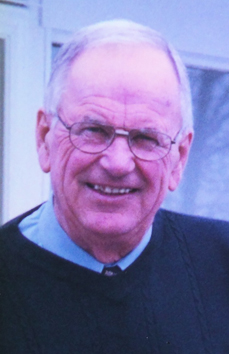 Leslie "Les" Ernest Johnson
It is with great sadness that we announce the passing of Leslie "Les" Ernest Johnson (age 92) on Friday, March 11th, 2022, at the Dr. F.H. Wigmore Regional Hospital in Moose Jaw, Saskatchewan.
Les is survived by his wife Helen (Gaynor), his beloved partner of 69 years; children Maureen (David) Ewasiuk, Kathy (Gary) DeWulf, Kevin (Sherry) Johnson, Ann (Lloyd) Rodgers, Heather (Paula) Johnson, and Linda (Vernon) Gray; 10 grandchildren and 9 great-grandchildren.  
Les was born on June 27th, 1929 in Lafleche, Saskatchewan, the youngest child of Lucy May Gibbs and Charles Johnson.  Les is survived by sister Joyce Amos, and he is predeceased by sister Kathleen (Harold) Seebach; brothers Herb (Lorraine) Johnson, Charles "Chuck" (Irene) Johnson, and brother-in-law Keith Amos.
Les was raised on North-View Farm north of Melaval during the depression years.  With the start of WWII, and with his father away for extended periods of time as an MLA in the Saskatchewan legislature, Les remained home to work the family farm and had a great deal of responsibility from a young age.  After obtaining his driver's license at the age of 14, Les never looked back.  Riding motorcycles, fast snowmobiles, and piloting his boats were lifelong passions.  
Following school, once harvests were completed, for a few years Les left the farm during the winter months and took up jobs in carpentry building elevators, road building, lumber mill work, cutting pulp lumber, and painting in government dry docks from Ontario to Victoria, BC.  
In 1948, Les took a 5-course program consisting of the practical application of mechanics, carpentry, welding, plumbing, electrical and agrology, courses that would serve him well over the course of his life operating a grain farm and cattle operation.  There was nothing he couldn't repair, build or fabricate when the need arose (except the T.V. – that had to go to Assiniboia!).
Following two winters courting Helen Gaynor in Hamilton, Ontario, on October 27th, 1952, Les and Helen married in the Palmer Roman Catholic Church and they moved to North-View Farm for one winter before moving two miles away to the Gaynor homestead, where they raised their family of six children while Les farmed both the homesteads land.  As with most farmers in the crop rotation era, acres were limited and families were large but through love and hard work they endured.  In addition to grain farming, Les raised cattle and Les and Helen drove school bus for 34 years.  Les took great pride in driving the neighborhood children, many of whom were the children of friends, throughout their school years.  Sundays at Thomson Lake swimming, and later boating and water skiing, provided cherished memories until Les hung up the water skis at 52 years of age to concentrate on operating the boat for his next generation of water skiing enthusiasts.   
Once their children left home and later when they retired to Moose Jaw in 1997, Les and Helen loved their winters in Yuma, Arizona and time spent with their large social circle of square dance friends as they attended square dances across southern Saskatchewan.  Winter trips to Victoria, B.C. with Les's siblings were special.  Snowmobile trips to Yellowstone and Les's day snowmobile trips to Moose Jaw squeezed in between school bus runs were legendary.  Driving trips to Alaska, across the U.S. and Canada fueled Les's love of driving and adventure.  
Retirement in Moose Jaw expanded Les and Helen's social circle as they continued to dance, travel and play cards with friends.  Les was able to enjoy curling and he made many great new friends.  As a devout Catholic, Les was a proud member and dedicated servant to both the Gravelbourg and Moose Jaw Knights of Columbus.   
In his later years, Les was an avid puzzler, including both jigsaw and intricate 3D mechanical puzzles, and Architecture series Lego building while listening to his much loved classic country music.
In honour of our beloved husband, father, grandfather and role model to us all, Les has our greatest respect for a life well lived.  
Special thanks to the Medicine Ward nursing staff, Emergency Room staff, EMT services, Shelley (Blood Transfusion Unit), and especially Dr. K. Brabant for their wonderful care and compassion. 
A Funeral Service to honour Leslie will be held on Tuesday, March 15th, 2022 at 2:00 p.m. in Moose Jaw Funeral Home.  Deacon Lamont Dyck will officiate and interment will take place at a later date at Rosedale Cemetery.  Those not able to attend are invited to view the service virtually by going to www.moosejawfuneralhome.com/webcast/. In lieu of flowers, donations in Les's name may be made to Canadian Blood Services, 2571 Broad Street, Regina, SK S4P 4H6 (www.blood.ca) and/or please consider becoming a blood donor.  Arrangements are entrusted to Moose Jaw Funeral Home, 268 Mulberry Lane.  Andrew Pratt Funeral Director 306-693-4550