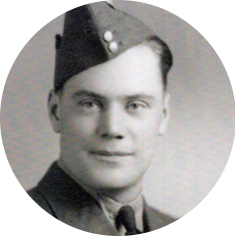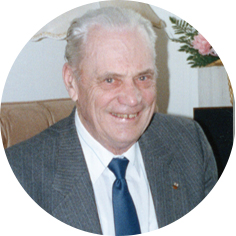 The Funeral Service for the late Herbert Arthur Johnson, who passed away on Friday, December 4th, 2020, will be held on Saturday, September 11th, 2021 at 1:30 p.m. In Moose Jaw Funeral Home.  Celebrant Dave Foley will officiate and interment will take place at Rosedale Cemetery.  Those not able to attend are invited to watch the live service virtually by going to www.moosejawfuneralhome.com/webcast/.  As an expression of sympathy, donations in Herb's name may be made to the Royal Canadian Legion – Poppy Trust Fund (legion.ca).  Arrangements are entrusted to Moose Jaw Funeral Home, 268 Mulberry Lane.  Todd Sjoberg, Funeral Director 306-693-4550
On Friday, December 4th, 2020, Herbert Arthur Johnson passed away at the grand age of 102 years.  He was born on the family farm 5 miles north of Melaval, Saskatchewan and received schooling at the Castlemore rural and Melaval public schools.  In 1941 he joined the RCAF and in 1942 married Lorraine Patterson of Mossbank, SK, and together they were posted to several communities across Canada.  After the end of WW2, Lorraine and Herb returned to the Melaval community.  Herb ran the Ogilivie grain elevator for 14 years and farmed.  Melaval was a thriving community in those years and both Herb and Lorraine were very active there.  They raised and educated two sons.  Once the boys left home, many enjoyable winters were spent in Arizona and in later years Victoria, BC.  They retired from farming in 1986 and built a new house in Moose Jaw, SK.  Many years of active retirement followed.  In 2007, due to declining health, Herb and Lorraine moved to the Mulberry Estates Retirement Residence in Moose Jaw.  In 2011 Lorraine passed away.  Herb continued living at Mulberry until 2018 when health issues forced him to relocate to Chateau St Michaels care home where he resided until his passing.
Herb was a quiet, gentle soul who very much looked forward to visiting with family and friends.  For many years he enjoyed curling, bowling and the Masonic Lodge.  In later years, visits to the sunny south to get away from the prairie winters were a priority.  Apple Pie and ice cream were lifetime favourites.  
He was predeceased by his parents, Charles and Lucy May; father-in-law, Bill and mother-in-law, Ellen Patterson; sister, Kay and husband Harold Seebach; brother, Charlie and wife Irene; brother-in-law, Russ and sister-in-law Jean Patterson; sister-in-law, Betty and brother-in-law Clare Scheurwater; sister-in-law, Rose Patterson and brothers-in-law Keith Amos, Doug Patterson and Jim Patterson.  Herb is survived by his sons, Gary (Charlotte) and Bill (Elaine); grandchildren: Jeffrey (Tania), Andrew (Angela), Jaime, Christy (Derek) and Steven (Stacey); great-grandchildren: Lassah, Jonah, Bailey, Blake, Sadie, Stella, Braxton and Austin; brother, Les (Helen); sister, Joyce Amos; sister-in-law, Isobel Patterson; sister-in-law, Estelle Patterson; brother-in-law, Murray Patterson; as well as many nieces and nephews across Canada and the USA, and several cousins in the UK.
We are so grateful to have had Herb in our lives for such a long time.  He will be missed but not forgotten.  A Celebration of Herb's Life will be held once Covid-19 restrictions are lifted.  As an expression of sympathy, donations in Herb's name may be made to the Royal Canadian Legion – Poppy Trust Fund (legion.ca).  Arrangements are entrusted to Moose Jaw Funeral Home, 268 Mulberry Lane.  Todd Sjoberg, Funeral Director 306-693-4550