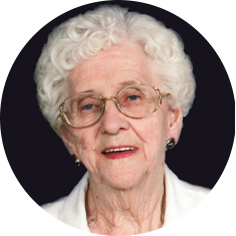 HELEN L. JOHNSON
May 7th, 1928 to November 3rd, 2020
Helen Lovern Johnson (née: Weed) passed away on Tuesday, November 3rd, 2020 at the age of 92 years. 
Helen was born in the Killdeer, Saskatchewan area.  The Weed family later moved into Moose Jaw, SK where Helen attended high school.  After graduating high school, Helen moved to High River, Alberta and was employed as a telephone operator.  It was here that she met and married Gerald (Gerry) Lendrum in 1957.  They moved to Saskatchewan to farm and welcomed their son, Wilfrid in 1958.
Due to an unfortunate accident, Helen was widowed with a small baby.  She attended Normal School in Moose Jaw and then taught for one year in Fort Qu'Appelle, SK.  In 1963, Helen and Wilfrid moved to Central Butte, SK for another teaching position and she was reacquainted with the brother of her high school and lifelong friend, Fern Johnson Reinbein.  Helen and Stan Johnson were married in 1964 and together, they raised their three boys – Wilf, Kim and Mark – while farming in the Mawer district. 
In 1999, Helen and Stan moved to Moose Jaw and eventually settled in their Manhatten condo in 2003.  Helen became more active at her church and enjoyed working in the church library.
Throughout her life, Helen had many interests.  She was a very talented and avid knitter, and we all have her beautifully made afghans to remember her by.  Her garden at the farm – both vegetable and floral – were a sight to see.  Education was important to her and during the 1990's she upgraded her teaching credentials by taking summer classes at the University of Saskatchewan.  Her passion was teaching; especially her kindergarten classes who she referred to as "her kids." 
Helen is survived by her children: Wilf and Norma (Weyburn, SK), Kim and Rhonda (Central Butte, SK/Airdrie, AB), Mark and Latricia (Grand Forks, North Dakota); grandchildren: Zayne and Andrea, Seth, Selena, Alyssa, Austin and Tanner; siblings: Earline, June and Jim, Lynne; and her in-laws: Fern, Chet and Connie, Flo, Roy and Elaine, Wanda, Corien, and Gail; as well as numerous nieces and nephews.  She was predeceased by Stan in July of 2018.
The family would like to thank the staff at the Extendicare Moose Jaw for their excellent care of Helen, Teana Erb and the rest of her friends at the condo for their kindness and friendships, as well as her friends from Central Butte for their continued friendships.
A Celebration of Life for Helen and Stan will be held later in 2021 when we can all get together.  Arrangements are entrusted to Moose Jaw Funeral Home, 268 Mulberry Lane.  James Murdock, Funeral Director 306-693-4550