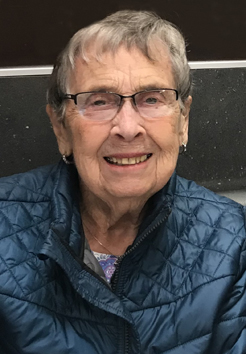 With an unmeasurable sense of loss, our family wish to announce the passing of Helen Elizabeth Johnson, née: Gaynor, aged 92 years, on Sunday, March 20th, 2022 at Pioneer Lodge in Moose Jaw, Saskatchewan.
Helen was predeceased by 9 days by her husband Les Johnson, her beloved partner of 69 years, and is survived by her 6 children: Maureen (David) Ewasiuk, Kathy (Gary) DeWulf, Kevin (Sherry) Johnson, Ann (Lloyd) Rodgers, Heather (Paula) Johnson, and Linda (Vernon) Gray; 10 grandchildren and 9 great-children.    
Helen was predeceased by her brother, John (Hazel) Gaynor; sister-in-law, Liz (James) Gaynor; and is survived by her beloved baby brother, James (Liz) Gaynor, with whom she shared a special bond.  Helen is also survived by Dryburgh, Gaynor and Johnson cousins, nieces and nephews whom she loved dearly.  
Helen was born in the Gravelbourg hospital on February 17th, 1930 to Euphemia Anderson Gaynor and Thomas Gaynor, and was raised on the Gaynor family farm in the RM of Sutton, southwest of Palmer, SK.  She attended Jesmond School until grade 10, and following the sudden passing of her father when she was 16, Helen completed grades 11 and 12 while boarding at the Moose Jaw Convent of Sion.  In June of 1948, Helen was the youngest graduate of the Moose Jaw Normal School when she obtained her First Class Teaching Certificate.  For the following two years, Helen taught in the one room Conifer School northwest of Limerick, SK on the Road to the Isles where she boarded with dear family friends the Carefoots.  It was while spending time with her friend, who was teaching at Jesmond School, that Helen first met Les Johnson when fate threw them in each other's path.  Although they were raised on farms only 3 miles apart growing up, Les and Helen attended different communities for school and church and had never met previously.  Shortly after their first meeting, in July of 1950 Helen moved to Hamilton, Ontario to live with her mother and brothers, and she worked for the Bank of Montreal.  
In November of 1950, Helen and her family received a visit from Les Johnson and friends in Hamilton, Ontario where Helen and Les' romance began and blossomed over two winters, culminating in a romantic marriage proposal at Niagara Falls on February 14th, 1952.  Helen and Les were married in the Roman Catholic Church in Palmer, Saskatchewan on October 27th, 1952.  Helen later described that cold windy day as the day Les "became my husband, my life".    
Following a winter at North-View, the Johnson homestead, in 1953 Helen and Les took up residence on the Gaynor family farm where they raised their six children with love and discipline, instilling a work ethic that could be mirrored, but perhaps never equaled.  Helen was tireless and an efficiency expert decades before Marie Kondo became a household name.  She is the only woman any of us have ever known who could prepare a turkey or roast beef dinner with all the trimmings, serve it hot and still somehow manage to have the pots and pans washed before the meal was on the table.  
Helen's diminutive stature and quiet demeanour belied an unparalleled iron will and determination.  She ran the household, planted and managed an immense garden, drove school bus, hauled grain and defended the family farm when Les was out in the fields.  In the epic battle of Helen versus badger, she drove like a woman possessed and eventually cornered the badger and it was no match for Helen.  Badger problem solved.  Drive a 48 passenger bus around the Spillway at Thomson Lake or haul the 30 foot travel trailer across the U.S. when Les needed a break from long hours of driving – no problem.  
Helen's memory was like a steel trap and she was amazing with numbers.  Birthdays, anniversaries, phone numbers.  Her entire extended family, neighbors' kids, everyone she ever drove on the school bus over 33 years, she knew their birthdays, their kids names and probably their birthdays too!!  She was our collective memory holder.  
Helen's first love was her husband and family.  She loved fiercely and for decades sacrificed her own needs for her children.  For years she cared for her mother and was a dutiful, attentive daughter.  A homebody at heart, Helen accompanied her adventure-loving husband far from the Prairies.  Helen and Les were the true definition of a forever love.  Anyone who knew Helen and Les realized how close their bond was.  They pursued very few individual interests outside the confines of their home.  Helen loved dancing, snowmobiling, playing cards, country music and fishing.  As long as Helen was near Les, she was content.   
Helen loved visiting her children and grandchildren, and adored receiving visits from the great-grandchildren as they arrived.  She was always interested in the kids' athletic and recreational pursuits, academic achievements, goals and aspirations and it was never a surface interest.  Helen was happiest surrounded by family and friends, as evidenced by their large celebrations for their marriage milestone wedding anniversary parties.  October, 2022 would have been their 70th.   
In 1997, after spending the majority of her life on her family farm, Helen and Les retired to Moose Jaw where they enjoyed friends new and old and settled into a life of leisure  – the busy kind because neither Helen nor Les were ever very good at being idle.  Watching grandkids and later great-grandkids play ball in Moose Jaw were some of Helen's favorite pass times as were reading mystery thrillers, watching curling, visiting with dear friends by phone, and following news and current events.  
As the years passed and physical challenges surfaced requiring changes to her lifestyle, Helen persevered with the same grit and determination she had demonstrated her entire life.  Helen's unwavering love for her family never diminished.  Gentle with advice and steady in her actions, she truly led by example.  
In honour of our beloved mother, grandmother and great-grandmother, role model to us all, Helen has our greatest respect for a life of hard work well lived.
The Funeral Service will be held on Friday, March 25th, 2022 at 2:00 p.m. in Moose Jaw Funeral Home.  Deacon Lamont Dyck will officiate and interment will take place in Rosedale Cemetery at a later date.  Those not able to attend are invited to view the service virtually by going to www.moosejawfuneralhome.com/webcast/.  In lieu of flowers, donations in Helen's memory may be made to the Moose Jaw Health Foundation, 55 Diefenbaker Drive, Moose Jaw, SK S6J 0C2.  Arrangements are entrusted to Moose Jaw Funeral Home, 268 Mulberry Lane.  Andrew Pratt Funeral Director 306-693-4550