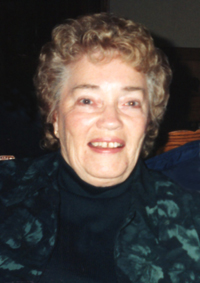 Esther Margaret Johnson, born March 16th, 1933, passed away peacefully surrounded by love on Tuesday, February 9th, 2021.  Esther was a loving wife, partner, mother, grandmother, great- grandmother, sister, aunt and friend.  She was predeceased by her husband, Jack in 1978; parents, Ella and Ernest Carlson; brother, Wesley Carlson; sister, Grace Krusky; and great-grandson, Chase.  Esther will be lovingly remembered and always cherished by her partner, Sid Huntley; son, Gord (Janice) and their children Coralie (Matt), great-grandchildren Logan and Connor, Krista (Curtis), great-grandchildren Brooklyn and Jaxon; son, Dale (Bonnie) and their children Shawn (Marla), great-grandchildren Kennedy and Vann, Ryan (Becky), great-grandchildren Rowen and Layla, Aaron (Megan), and Morgan (Brittan); son, Doug (Lorie) and their children Jenn (Carson), great-grandchildren Maci, Atley, Rhett, and Nicole, and Jaclyn (Nolan), great-grandchildren Kinley and Boden.  She will also be remembered by her sisters, Elsie Pana and Doris (Keith) Hicks; brother, Richard (Marcia) Carlson; sister-in-law, Shirley Carlson; along with many other cherished relatives and friends.  Esther was born on a farm near Bengough, SK.  As a young woman she took a job at Con's Corner, a gas station south of Moose Jaw.  There she met Jack Johnson and they were married in 1955.  They farmed in the Crestwynd area for many years and together they raised three sons: Gord in 1956, Dale in 1960, and Doug in 1961.  Esther was a GREAT mother, hard worker and an amazing cook.  Esther remained on the farm until her and Sid moved to Moose Jaw in 1987. There they welcomed all the grandchildren, great-grandchildren, family and friends with open arms……and of course with great food and a lot of wonderful baking that no one could make quite as good as Grandma Esther!  Esther was a great lover of animals and over the years she had a wide variety of pets, loving them all.  She leaves behind her furry friend, Gypsy.
We love you, we will miss you and cherish your memory.  You were a small woman that made a big impact on all of our lives!!
"Until we meet again"
A Private Family Service will be held to honour Esther and interment will take place at Rosedale Cemetery.  
Arrangements are entrusted to Moose Jaw Funeral Home, 268 Mulberry Lane.  James Murdock, Funeral Director 306-693-4550