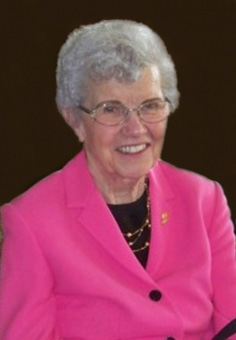 It is with heavy hearts that we announce the passing of Joyce Ellen Jennings on Friday, April 2nd, 2021 at the age of 90 years, at Pioneer Lodge in Moose Jaw, SK.
Joyce was born August 23rd, 1930 in Central Butte, SK to Lorne and Gladys (Runions) Aikens.  She was their fourth child after Cliff, Lorne, and Nora and was followed by little brother, Glenn.  She grew up in the Green Prairie school district where she took her elementary grades.  At the age of just 17, she completed a six week course at Moose Jaw Normal School and went teaching at Enns School in Neidpath, SK.  
Joyce and Vic Houseman eloped to Toronto, ON and were married March 28th, 1949.  They lived in Toronto for 2 years and then moved back to Central Butte where Vic operated a contracting business.  Vic built many houses in Central Butte and Joyce did the accounting for the business.  Lorne joined their family in 1951 and Gord in 1955.
Sadly Vic passed away suddenly from a heart attack on January 22nd, 1969 at the age of 52 years.  This left Joyce alone with two young sons.  She appreciated all the support she received from family, friends, community and particularly Rev. Gordon and Dot Duncan.  Joyce worked as Town Administrator from 1966-71 and then at the Post Office from 1976-90.
Joyce was fortunate to meet George Jennings and they were married in July 1970.  She became a farm wife in the Aquadell district for the next 20 years.  They did lots of travelling, enjoying many trips to the U.S. and Europe.  They welcomed their first grandson in 1981 and were thrilled to have three more grandsons and a granddaughter.  They spoiled them all every chance they got.
Joyce loved to entertain, always serving up delicious meals and hosting many a pinochle game with her siblings, which at times could get quite heated.  She was very involved and dedicated to her community, belonging to the Central Butte Hospital Auxiliary and was on the first executive of the Regency Manor Auxiliary in 1984.  Joyce was Secretary and Treasurer for the Central Butte Recreation Board and worked very hard on the committee for the swimming pool that her grandchildren would enjoy in later years.  From 1993-99 she was a member of the first Moose Jaw Thunder Creek Health Board.  In 2000 she was elected to the Providence Place Board and she became extensively involved until 2006. 
George and Joyce decided to move to Regina, SK in 2002 where they were thankful to be when George's health started to fail. He passed away on December 19, 2007.  Joyce moved to Moose Jaw in October 2011 to be closer to family.  She made many new friends at Crestview Manor including a very close friend, Toni.  During her time in Moose Jaw she was able to spend quality time with her brother, Cliff and special niece, Glenda.
Due to some health issues, she moved to Iver Main in Central Butte in May 2015.  It was so wonderful to have her home again and she settled in making new friends and renewing friendships in town.  Being a community minded person she was always interested in the town.  She loved all the visitors that took the time to visit her, especially when she got to go to April's for lunch and ice cream.  Being cut off from her family in 2020 due to Covid-19 restrictions caused her health to decline rapidly.  Sadly the last year of her life was spent for the most part alone.  She loved to visit with many friends and relatives on the phone as that was all that was left.  She was blessed with three great-grandchildren and even as her health failed, her face would light up every time we talked about Maya, James and Brynn.
She was predeceased by her parents, Lorne and Gladys; husbands, Vic and George; and siblings: Cliff, Lorne, Nora and Glenn.  Joyce is survived by her sons, Lorne Houseman and Gord (Karen) Houseman; grandchildren: Joel (Loni), Josh, Jared (Danielle), Leah (Dion), and Eric (Melissa); great-grandchildren: Maya, James and Brynn; as well as many nieces and nephews.  
Due to Covid-19 restrictions, a Private Family Service will be held.  Friends and Family are invited to view the service virtually on Saturday, April 10th, 2021 at 1:30 p.m. by going to www.moosejawfuneralhome.com/webcast/.  As an expression of sympathy, donations in Joyce's name may be made to Central Butte Iver Main Place, Box 550, Central Butte, SK S0H 0T0.  Arrangements are entrusted to Moose Jaw Funeral Home, 268 Mulberry Lane.  James Murdock, Funeral Director 306-693-4550