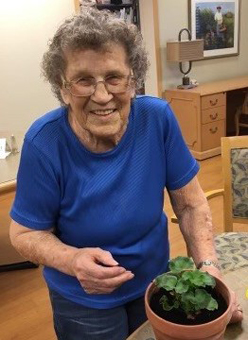 Clara Jennings was born to John and Dorothy Ries on February 26th, 1934 at Linacre, Saskatchewan.  Clara passed away on Sunday, January 23rd, 2022 at the age of 87 years while in the exceptional care of the 'Hospice at Glengarda' in Saskatoon, SK. 
When Clara was 17, she moved to Medicine Hat, AB with her parents and siblings.  She then worked at the Diamond Glass Factory in Redcliff, AB and during layoffs, at the Shasta Cafe in Medicine Hat.  Clara married Louis Bitz in 1953 and they farmed at Mendham, SK until 1959 when they bought land and moved to Bridgeford, SK. 
Gardening was Clara's main passion as well as most anything that allowed her to be outside.  She was an organist at St. Mary's for 10 years, served on Auxiliary to Parish Council and on Liturgy.  She worked in the kitchen at the Central Butte Hospital and with Home Care.  Clara spent years being Head Convenor at Central Butte's Silver L Arena, where she had an 'assumed' reserved seat upstairs in the rink for all hockey games she attended.
After her husband Louis Bitz passed away in 1976, Clara moved into Central Butte, SK.  She married Pat Jennings in 1986 and they enjoyed years travelling to many destinations in the world.  They had a large vegetable garden and enjoyed the 3,000-4,000 bedding plants Clara started each year.  After Pat passed away in 2011, Clara moved into Preston Park in Saskatoon where she lived until her fall on October 25th, 2021 which caused numerous broken bones. 
Clara was the last surviving member of her immediate family having lost both her parents, her sisters Catherine, Emily and Annamarie, and her brothers Pius and Allan. 
Clara leaves three children and seven grandchildren to carry on her legacy: Marlene (Jerry) Fizell and their children Jana (Jim) Kinnear, Tricia (Ryan) Miner, and Carey (Greg) Peifer; Garry (Sonya) and Garry's children Logan (Deserie) and Cynara (Justin) Dirk; Daryl (Josanne) and their children Andrew and Lindsay; as well as nine great-grandchildren: Emma, Sam, Jesse, Preston, Harleigh, Sadie, Kinsey, Jaxton, and Charleigh.
The Funeral Mass will be celebrated on Monday, April 18th, 2022 at 1:00 p.m. in St. Mary's Roman Catholic Church, Central Butte, SK.  In lieu of flowers, donations in Clara's memory will be gratefully accepted for The Hospice at Glengarda, 301 Hilliard St E, Saskatoon, SK S7J 0E5.  Arrangements are entrusted to Moose Jaw Funeral Home, 268 Mulberry Lane.  Michelle Ellis, Funeral Director 306-693-4550