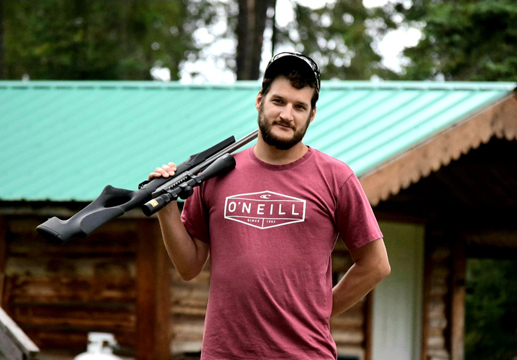 It is with very, very heavy hearts that we announce that our beloved son, brother, uncle, husband, Daddy, nephew, cousin and friend, Jesse Kenneth Jenner passed away on the early morning of Saturday, June 4th, 2022, the day of his grandmother's (Jenner) birthday.  Jesse Jenner came into this world March 31st, 1989 in Moose Jaw, SK.  He was predeceased by his grandparents, Ken and Maxine Jenner, Norman and Deloris Hallett, Norman and Laurette Spagrud; his Dad, Phil Spagurd, cousin, Russell Hallett; and Aunty Donna (baby Ashley).
Jesse was blessed with a large and loving family and for that he was determined to be the best family man.  Jesse married first and shortly after welcomed their daughter Kaytence, following with their son Kaliber.  Jesse helped raised his children with love, comedy, patience, humility and discipline.  Jesse instilled his beliefs and passions in his children.  He was a highly active outdoorsman and loved sharing these adventures with his family – going hiking in the mountains, hunting, bow fishing, camping, reading, and playing dress up.  
Jesse had the strongest work ethic known to man.  He had a great passion for his career in Edmonton, where he was really respected and looked up to by his co-workers.  Jesse's dream was to become a Crane Operator and he started that journey one building block at a time, first achieving his 1A driver's license and then achieving his heavy equipment operator ticket.  Each time he grew a bigger and bigger smile with his accomplishments.  
Jesse was a generous, caring, loving sole.  He would do anything for his family and friends.  He was usually the loudest in the room or coming up with funny jokes, keeping the mood light.  Jesse was ambitious, a leader, truly a man with a heart of gold! He will be deeply missed!! 
Jesse is survived by his mother, Cheryl Jenner; father, Brian Hallett; sister, Damara Hallett (Katheryn, Savannah, Adam); sister, Danielle and her husband Rick Fisher (Kierstyn, Colton, Soriah); brother, Kody Spagrud; wife, Brittany Jenner and their daughter, Kaytence and son, Kaliber; as well as numerous aunts, uncles, nieces, nephews and cousins. 
"FOREVER 33"
The Funeral Service will be held on Saturday, June 11th, 2022 at 1:00 p.m. in Moose Jaw Funeral Home with Pastor Larry Hasmatali officiating.  Those not able to attend are invited to view the service virtually by going to www.moosejawfuneralhome.com/webcast/.  As an expression of sympathy, donations in Jesse's name may be made to The Moose Jaw Humane Society, Box 1658 Station Main, Moose Jaw, SK S6H 7K7.  Arrangements are entrusted to Moose Jaw Funeral Home, 268 Mulberry Lane.  Michelle Ellis, Funeral Director 306-693-4550