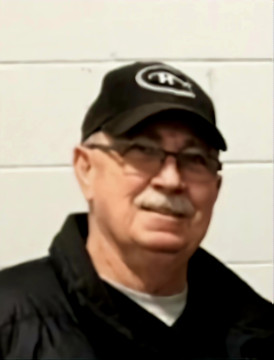 It is with great sadness that we announce the passing of Lawrence Arthur Ireland on Thursday, October 5th, 2023, at the age of 75 years.  Larry was born April 20th, 1948 to Leo and Vera (née: Goodnough) Ireland.  He married Karen Stephanson on October 24th, 1969 and their son Kris (K.C.) was born June 19th, 1974.
Larry attended Peacock High School and had a varied career as gas jockey, bartender/manager and grocery store produce manager.  However, after marrying into the Stephanson family, he learned the painting trade from his many brothers-in-law and after a few years started his own company, Shamrock Painting.  He proudly operated Shamrock Painting for decades and was always willing to hire a ball player, family member, or friend to teach them the trade and support those around him.
Larry was active in sports growing up and in his younger years, transitioned to coaching and teaching when Kris displayed the same love of hockey and baseball as his father.  He was involved in minor hockey for many years as a coach and ice co-ordinator.  He was also active at the ball parks and was a key member of the Miller Express board prior to his retirement.  Anyone who ever played a sport with Kris or was ever coached by Larry was instantly considered family to him.  Larry was extremely happy when his grandson decided that hockey was the game to play and many trips were made to cheer on Lucas on the ice.  Then, of course, all the fun times in the boat, driving back and forth and around in circles to give the kids a bumpy tube ride.
Larry will be deeply missed by his family and friends and all those that have been touched by his kind spirit and giving ways.  Larry enjoyed spending time (entertaining) with family and friends at the family cabin over the past 40+ years, and enjoyed the friendships made at the lake.  There was always an extra chair and cold beer for whomever dropped by.  He liked to say you were never finished your work at the lake, but it was never considered work.  There was always something that had to be fixed, upgraded, or just added.  He was known as MacGyver to many and if you needed a tool or part, you could find it in one of his sheds/garages either in town or at the lake, as he always bought things in bundles of 2 – 12, just in case.
He was predeceased by his parents, as well as numerous aunts, uncles, brothers and sisters-in-law.  Larry is survived by his wife, Karen; son, Kris and the light of his life, his grandson Lucas.  He is also survived by his brother, Dave (Anna); sister, Deb (Dale), sisters-in-law, Sylvia Stephanson and Sharon Grant; brother-in-law, Herb Smith; as well as three generations of nieces and nephews who hold great memories of their Uncle Larry.
For those of you who were told "Don't touch Larry's Coke (Coca Cola)", please enjoy one for him today.  A "Larry Funeral", a social gathering will be held on Saturday, October 21st, 2023 at 2:00 p.m. at the Temple Gardens Hotel and Spa, Skywalk Room (5th floor on the casino side).  Arrangements are entrusted to Moose Jaw Funeral Home, 268 Mulberry Lane.  Andrew Pratt, Funeral Director 306-693-