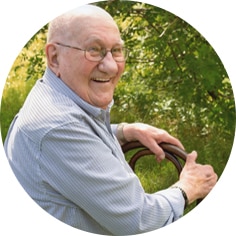 July 26, 1925 – April 6, 2020
Walter Wilfred Ingold was born in Bayard, SK as the seventh of 12 children to Ernest and Eva Ingold. He attended Tranquillity School, just one mile from his family farm. Having lived through the lean years of the 1930's, he was only able to finish Grade 6 before moving away from home to work. At age 14, his first job was at the Claybank Brick Factory as a bull cook peeling potatoes and washing dishes. While working there, he stayed in the factory bunkhouse. A year and a half later, he began working for a local farmer during the spring and summer, but always returned home to help with the harvest. 
In 1945, he turned 20 and left to find work in Ontario. He started out helping his sister Eva in the café she managed. One summer he took a construction job until he had an accident and caught his hand in a cement mixer. This put him out of work for six months – fortunately, he was still paid by his employer during his recovery period. That winter he worked at the Kingsville Tobacco Factory. In 1946, he started trucking for McAnally Freightway. Over the next number of years, he also hauled for McGaffey Transport and McCallum Transport, all out of Windsor, Ontario.
During the summers of 1950 – 1952, Walter returned home to Saskatchewan to help his family farm. In 1951, he met his future bride Carol, daughter of John and Johanna Leitner. Initially, Carol's family did not approve of Walter because of the age and faith difference – Walter was almost 10 years older and was Lutheran. These differences did not prevent their friendship and love for each other, which continued to grow over the next couple of summers when he was home. After harvest each year, he would return east to continue truck driving. While away from each other, they kept in touch by mail. 
In the spring of 1953, Walter and Carol decided to elope and were married in Winnipeg on April 9, 1953. At that time, Walter was working for Mid-Manitoba Auto Roll, hauling cars to various Saskatchewan cities as well as Minnesota. That summer they moved back to Windsor and their first child Richard was born shortly after. In March 1954, they moved back to Saskatchewan where they had three daughters, Elaine in 1954, Karen in 1955 and Faye in 1962. In 1955, they moved to Moose Jaw where Walter continued to live and work for the rest of his life. While there, he regularly attended Emmanuel Lutheran Church and went to St. Joseph's Parish with Carol and family on special occasions, including Christmas and Easter. 
Even though trucking was his career, Walter always had a passion for farming and for many years lent a hand to numerous friends and relatives who had farms. Throughout his life, Walter struggled with a leg disease which required three surgeries during 1938 – 1958. The recovery time varied between 8 – 12 months before he was able to return to work. Even though these times were very difficult for the family, Walter always had a positive attitude. 
In 1974, Walter and Carol built their house on Brown Street and enjoyed many years together. After their kids were grown up and living on their own, they enjoyed two trips to Austria and Alaska. They were married for 56 years until Carol's passing in 2009. Shortly after, Walter sold their home and moved to a bachelor suite at Pioneer Village. In November 2017, he moved to Mulberry Estates where he spent the rest of his life and enjoyed visiting with friends, the cheerful and helpful staff and wonderful meals.
Walter was blessed with many family and friends – he loved spending time with over a meal, coffee, playing cards or running errands, and loved making everyone laugh while doing it. He was also known for being kind, humble and always willing to lend a hand. He would often take coffee and donuts to various businesses he dealt with and would treat his family to KFC, out for breakfast, ice cream and Asian food usually on New Year's Eve (Carol's birthday). He also loved spending time with his grandchildren and great-grandchildren.
Walter was survived by children:
Richard (Helen) of Moose Jaw and their children Alyssa (Jared) Robinson, Colette (Jamieson) Newhouse and their children Calla and Nixon, Leah (Jason Dash) of Regina, James (Valentyna Akulova) of Regina, Thomas (Kristina Nguyen) of Edmonton, Gena (James) Wattam of Saskatoon and their child Owen, Kayla of Calgary, Emma, Matthew.
Elaine (Rob) Baird of Calgary and their daughter Lindsay (Mark) Otterson and their children Rebecca and James.
Karen (Karl) Carson of Calgary, Karen's daughter Tanita Coleman (Nick Lapina and his child Shia) and Karl's son Kirk (Kim) Carson of Edmonton
Faye (Ray) Strelesky of Crossville, TN. USA and their sons Ryan of Denver, CO. USA and Tyler of Minneapolis, MN. USA. 
Survived by brothers: Ed of Ontario and Ben of Moose Jaw.
Predeceased by wife Carol (2009), parents Ernest (1957) and Eva (1978), siblings Olga (1996), Annie (2009), Erna (2000), Eva (2001), Tillie (1981), Paul (2003), Isabel (1979), Irene (1937), Ernest (1937).
The family wishes to thank the staff and residents at Mulberry Estates, Dr. Dautremont and staff, TLC Pharmacy, and the Dr. F.H. Wigmore Hospital. A Graveside Service will be held at a later date.  Arrangements are entrusted to Moose Jaw Funeral Home, 268 Mulberry Lane.  Todd Sjoberg, Funeral Director 306-693-4550.