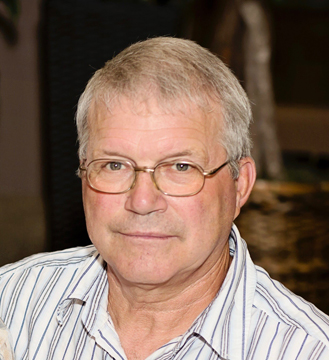 It is with great sadness that we announce the passing of Douglas George Immel after a courageous and dignified battle with cancer.  He passed away peacefully on Wednesday, August 24th, 2022 at the age of 76 years, surrounded by family.  Doug was born November 15th, 1945 in Medicine Hat, Alberta to Adam and Helen Immel.  He lived in Fox Valley, Saskatchewan until the age of 4 when the family moved to their farm near Bridgeford, Saskatchewan.  Doug attended school in Bridgeford, Tugaske, and Central Butte, SK.  He purchased his first section of land in 1964 when he was in Grade 12, farming alongside his father.  On November 1st, 1969 he married Mary Ellen Moen and together they farmed and raised a family of 4 children.  Doug had a passion for farming and spent every moment ensuring that the work got done.  Always proactive, organized, and diligent, he remained active in farming until his last day. 
Doug cherished his family wholeheartedly.  His 8 grandchildren provided much happiness and laughter and were a focus of his life.  He took great joy in spending time with his family annually at Christmas, throughout the summers, and during family vacations which included trips to Mexico, skiing in the mountains, West Edmonton Mall, the cabin at Murray Lake, and camping.  Visiting, playing cards, and having coffee with lifelong friends and neighbours were moments he always valued.  Doug was a kind and thoughtful person who will be sadly missed by all who knew and loved him.  
He was predeceased by his parents, Adam and Helen; sister, Henrietta; niece, Shannon; and nephew, Rorke.  Doug leaves to mourn, his wife, Mary Ellen; children: Nikole (Will), Grant (Carrie), Nadine (Chad), and Nola (Ryan); grandchildren: Willow, Mackenzie, Jordyn, Kennedy, Avery, Frank, George, and Lewis; sisters, Penny (Ted) and Marlys (Gerry); as well as numerous in-laws, nieces and nephews.  The family would like to thank the staff of Dr. F.H. Wigmore Regional Hospital for their wonderful care, as well as the staff of the Allan Blair Cancer Centre. 
A private family service will be held at a later date.  In lieu of flowers, memorial donations in Doug's name may be made to Iver Main Place, Box 550, Central Butte, SK S0H 0T0.  Arrangements are entrusted to Moose Jaw Funeral Home, 268 Mulberry Lane.  Michelle Ellis, Funeral Director 306-693-4550