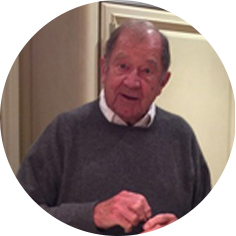 Wallace David Hunter PhD
Celebrating a life well lived!
Born to William and Ethel on February 28th, 1931 in Mortlach, Saskatchewan.
Passed with dignity on January 21st, 2018 in Ft. Myers, Florida
Humanitarian, Educator, Mentor, Soldier, Barman.
Survived by Doug, Kelvin (Helen), Ron (Carol), sister Laura, and many nieces and nephews.
Predeceased by Bruce, Etta, Olga, Alma, Velma and Goldie.
A great communicator, as comfortable in a board room as on a factory floor.
Wally's words of wisdom which he has graciously left us to contemplate:
The appreciation of good scotch is something to be cultivated and enjoyed in whatever quantity one seems appropriate;
Always live prudently and within your means but drive a nice car;
Respect is earned and should not be taken for granted;
There is nothing in life to which you are entitled;
Humility is a characteristic well served by others;
Accept responsibility whatever the circumstance;
Relish in the success of others!
Great Job Uncle Wally!
You have touched a multitude of people in such a positive way.
Thanks for the adventure.
A Celebration of Wallace's Life will be held on Saturday, July 21st, 2018 at 1:30 p.m. in Moose Jaw Funeral Home with Reverend Doug Shepherd officiating.
Arrangements are entrusted to Moose Jaw Funeral Home, 268 Mulberry Lane.  James Murdock, Funeral Director 306-693-4550