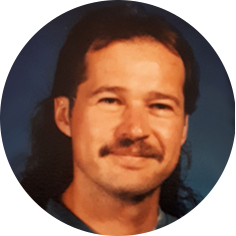 The family of Fred Humeny are sad to announce his passing on the evening of Saturday, December 19th, 2020, mere days from his 67th birthday.  Fred was born in Saskatoon, Saskatchewan on the cusp of December 21st–22nd, 1953.  He was predeceased by his parents, Mike and Nettie (née: Bohachuk) Humeny; and sister, Nadine Beaton.
Fred is survived by his spouse, Bonnie Humeny of Moose Jaw, SK and his children, Lindsey (Dré) Beriault of Chilliwack, BC and Jordan Humeny of Saskatoon, SK.  He is also survived by his siblings: John (Pearl) and their children from Kindersley, SK, Nick of Kelowna, BC, Bill (Faye) and their children of Regina, SK, and Mary Anne (Allen) Melenchuk of Emerald Park, SK. 
Fred was a cool cat who fully lived his nine lives.  Some of his favourite moments were shared around a campfire, a backgammon board, a couple of fishing poles/cold beers, a soulful string set, or around the stereo on a road trip.  Fred encouraged those around him to live authentically and follow their principles.  He will be greatly missed by his family, friends, and acquaintances.
We want to thank the Five Hills Health Region in Moose Jaw for the care and compassion they provided Fred and his loved ones during his stay there.
A Private Family Service to honour Fred will be held at a later date.  In lieu of flowers, please consider taking a moment to listen to a song that brings you joy and delight in the beauty of the world that surrounds you – it is fleeting, after all.  Arrangements are entrusted to Moose Jaw Funeral Home, 268 Mulberry Lane.  Gary McDowell, Funeral Director 306-693-4550