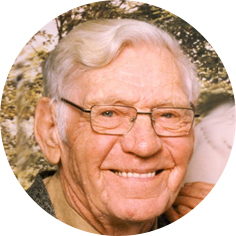 Benjamin Ross Hughes was born on September 19th, 1921 and passed away on Sunday, October 18th, 2009 in Swift Current, Saskatchewan.  He was raised on a farm south of Chaplin.  After serving 3 years in the Royal Canadian Army, Bennie returned to farm south of Chaplin for the rest of his life.  Bennie married Lena Millar (the apple of his eye) on December 5th, 1941.  Bennie's family, friends, church and community were the most important things in his life.  His love for horses started when he could manage to crawl on one, and lasted until his death.  Bennie rode his horse Dolly to chase his cows for calving this spring.  He had great respect and love for his cattle and dogs; in fact animals in general.  It was because of his thoughtful, quiet and gentle attitude that people and animals had respect for him.  Bennie will be remembered by his family for a million reasons, but his quiet way of always thinking things through and his sense of intuition and his infectious smile were very strong traits.  Bennie and Lena enjoyed many years of square dancing meeting lots of wonderful people.  Bennie leaves to mourn his wife Lena; their three daughters: Dorothy (John) Knudsen, Roberta (Richard) Essex and Karen(Brent) Silvester; six grandchildren: Cathy (Ron) McIntosh, Bonnie (Rob) Miller, Allan (Anita) Knudsen, Barb (Trevor) Schuetz, Brenda (Jeff) Schwan and Amy (Troy) McInnis as well as 13 great grandchildren; brother Dave Hughes; sister Gladys Pierce; brother-in-law Bill (Ivy) Millar; sisters-in-law: Daphine (Willy) Allen, Marlene Hughes and Ron Moore plus many nieces and nephews.  Bennie is predeceased by his parents Ben and Gladys Hughes; one sister Helen; two brothers Gordon and Douglas Hughes; brother and sister-in-law Ken and Ivy Millar; brother-in-law Wayne Pierce and sister-in-law Joyce Hughes.  Interment has taken place at Droxford Cemetery.  A Private Family Funeral Service will be held in the Chaplin United Church. Mr. Alfred Mathieson will officiate.  Friends are invited to join the family for a Fellowship Luncheon on Thursday, October 22nd, 2009 at 2:30 p.m. in the Chaplin Community Complex.  As an expression of sympathy, memorials to the Chaplin United Church or the Canadian Cancer Society, 61B Ross St. West, Moose Jaw, Sask. S6H 2M2 would be appreciated by the family.
Bennie always said "life is a journey, get on and make the most of the ride".
If life is a journey, then Dad carried his share of the load.
If life is a journey, then he choose the high road.
If life is a journey set out by God above,
Then Dad followed the road
With truth, honesty and love.