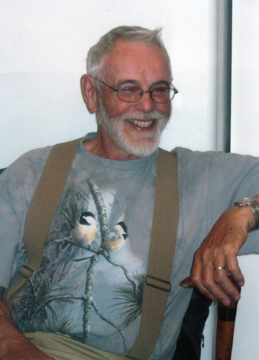 John Allen Howard born February 19th, 1939 was released from his earthly suffering related to Alzheimer's Disease and into the arms of Jesus on Wednesday, April 26th, 2023, at the age of 84 years.  John was born in Moose Jaw, SK and was treasured by his big sister Trish, who welcomed his arrival home to the small homestead house on the farm where he slept as a baby in a dresser drawer for a crib.  He lived the entirety of his life on the Century-plus Howard family farm at Brownlee, SK. 
John attended the old brick schoolhouse in Brownlee, somewhat of a prankster and often getting into mischief with the help of his buddies.  He was known for his "knuckleball" pitching hand.
A beautiful young Ruth McLaren came to Brownlee to practice teaching and thereafter developed one of the greatest love stories many of us will ever witness.  After completing a degree in Agriculture from the University of Saskatchewan, John and Ruth were married at the Anglican Church in Grenfell, SK on July 11th, 1959 and soon after they welcomed the arrival of Mark, Susan, and Peter.  John and Ruth enjoyed almost 64 years working as a team and living together on the farm.
John was best known for his smile!  He had an incredible sense of humour and liked to have fun.  The home was filled with laughter and music, as well as extended family who came to share one of Ruth's delicious homemade meals.  John could not keep still to music and loved to dance, floating around the dance floor with Ruth, often singing as he danced.  There was always a dog at John's side.  He loved his neighbours and the farm, which was a living entity to him.
John was entrenched in community, serving on many boards including the Brownlee United Church Board and the Brownlee Recreation Board.  He was a conservationist, ever respectful of the land, animals, and birds.  John farmed organically when organic was not what was done in the farming community.
John had a strong social conscience, often reaching out to those in need.  Everyone was equal in his eyes – he did not see colour, race, or social status.  He was politically involved with the NDP, National Farmers Union, and spent endless hours writing letters to those in positions with the power to change social policy.  He believed in cooperatives and people working together for the greater cause.  John was a man of integrity.
John had a particular talent for photography and was well known to video record most all the community events and people involved.  He was particularly fond of birds and wild animals, which were artistically photographed.
Most of all, John loved his wife and family.  He was predeceased by his parents, Ralph and Sally; father-in-law, Peter McLaren; mother-in-law, Mabel Nunn; step-father-in-law, Richard Nunn; brother-in-law, Ted Harris; many aunts, uncles, family, and friends too numerous to mention.  John is survived by his best friend and life partner, Ruth; children: Mark (Janet), Susan (Blaine), and Peter (Cicely); grandchildren: Chris (Brooke), Luke, Kris (Gavin), Chantel (Dylan), Desiree (Blake), Sam and Max; great-grandchildren: Torvi and Kamryn; sister, Trish; nephew, Kim (Larry); niece, Pamela; sisters-in-laws, Joan and Gwen (David); nephews, Sean (Jackie) and Danny (Dawna); as well as lifelong special friend, Kathy Smith.
The family would like to sincerely thank all those who shared in John's life.  He loved each and every one of you.  We would like to thank those who came to support us in many ways through the toughest part of Dad's transition, including the Comfort Singers who came to Dad's room and sang like angels welcoming him into heaven.  We would also like to thank the staff at Chateau St. Michael's who cared for Dad with extreme compassion and treated him with such dignity.  We know that you too are grieving.  You are very special people and we are so grateful for all you have done.
The Funeral Service will be held on Sunday, April 30th, 2023 at 1:00 p.m. in Moose Jaw Funeral Home with Sandra Fowler officiating.  Those not able to attend may view the service virtually by going to www.moosejawfuneralhome.com/webcast/.  In lieu of flowers, please take some time in nature to enjoy all that is around us, time to extend a kindness to another, or take some time to connect with someone you love.  Arrangements are entrusted to Moose Jaw Funeral Home, 268 Mulberry Lane.  Gary McDowell, Funeral Director 306-693-4550