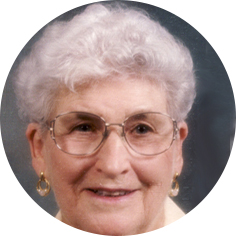 Elsie Elizabeth House
December 1st, 1922 – October 9th, 2016
Elsie House (née Thompson), aged 93 years, passed in the early hours of Sunday, October 9th, 2016 at Providence Place in Moose Jaw, SK.  She was predeceased by her husband, Harry; parents, Alva and Alma (Robinson) Thompson; stepmother, Edna (Zilkie); sister, Dorothy (Cleo) Mitchell; brothers: Murray and Jobe at early ages, Jack (Marge), Ralph (Marj), Clarke (Nell) and Dan (Doris, Sybil); father/mother-in-law, Phillip and Hilda House (Spratt); and brothers-in-law, Peter and David House.  Elsie is survived by her children: Penny (Dennis) McKenzie, Dan (Susan), Randy (Debbie), and Harley (Christine); 10 grandchildren; 11 great-grandchildren; sister, Mina (Lorne) Clarke; brother, Hillis (JoAnn); as well as numerous nieces and nephews.  Elsie was born and raised on her family's farm near Boharm, SK.  She had many happy memories of growing up with her siblings on the farm and in the Boharm community, as well as summers at the cottage on Manitou Lake.  She attended elementary school in Boharm, after which she attended Central Collegiate in Moose Jaw and also Central in Regina, from which she graduated.  She then began her Registered Nurse training in Woodstock, Ontario, graduating in 1944.  Elsie and Harry were married in 1945 and together they shared life's ups and downs for the following 70 years.  Together they worked their farm for nearly 50 years, raised their family and were involved in numerous community, recreational and church activities, as well as those of their children.  Elsie dearly loved and enjoyed her grandchildren and for many years the old farmhouse was like their second home.  Retirement to Moose Jaw in 1992 was a definite adjustment for them, but they made the best of it and remained busy keeping their yard and garden at their new home in tiptop shape, as well as becoming involved in several new activities.  In 2007 they moved to Mulberry Estates where Elsie always had their large patio adorned with well-nurtured plants and flowers.  Harry moved to Providence Place in 2013 and Elsie joined him there the following year.  On October 18th, 2015 they celebrated their 70th wedding anniversary with a large family gathering.  Harry passed shortly after, but now they're together again and we're sure the gardens of Heaven will be well cared for.
"The song may have ended, but the melody will linger…."
A Memorial Tea in honour of Elsie's life will be held at Minto United Church, 1036 7th Ave NW, Moose Jaw, SK on Tuesday, October 25th, 2016 at 2:00 p.m., with tributes to begin at 3:00 p.m.  A private family interment will be held at Sunset Cemetery.  We would like to extend our sincere thanks to all the staff at Providence Place.  As an expression of sympathy, the family would appreciate donations to this fine facility:  Providence Place Foundation Inc, 100 – 2nd Ave NE, Moose Jaw, SK S6H 1B8.  Arrangements are entrusted to Moose Jaw Funeral Home, 268 Mulberry Lane.  Gary McDowell, Funeral Director 306-693-4550