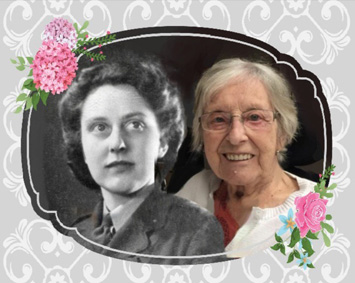 It is with much sadness we announce the passing of Margaret Houghton on April 9, 2021 at the age of 96. Margaret was born to Walter and Ellen Dicks in Rowlands Castle, Hampshire, England on July 18, 1924. She was the eldest of 10 siblings.
Margaret was predeceased by her parents; her infant son, Brian; grandson, Steven; sisters, Jean, Irene and Dorothy; brothers, Reginald and infant Walter. Her husband, Art passed in 2013 after sharing 67 years of marriage. She is survived by her siblings in England, Molly, Mary, William, Joe and Susan (Allen); her children, Arthur (Wendy), Linda (Chris), Donna and Colin (Ann Marie), 14 grandchildren and 13 great grandchildren, and loved ones in England.
In 2019, Margaret, a war bride, shared her and Art's love story with millions for Remembrance Day. They were both WWII veterans; he was a Canadian, training in England near her home and that's how they met. When he was deployed to mainland Europe, she joined ATS and did her part as well. When the war ended, they married and she followed him to Moose Jaw where she lived the rest of her life.
Her home on Connaught Avenue was her pride and joy. She loved her garden and you could find her quite often sitting outside under the apple tree that Art had planted, enjoying her cup of tea and probably reading one of her books or visiting with a neighbor.
In her later years, you'd find her on her I-phone, checking out Facebook, reading and writing messages and seeing what everyone was up to and she regularly had a FaceTime with family in England thanks to modern technology.  Of course, you might also find her at the Moose Jaw Casino.  
We send our sincere thanks and appreciation to the devoted caregivers at Providence Place.
A Private Graveside Service will take place at a later date.  Arrangements are entrusted to Moose Jaw Funeral Home, 268 Mulberry Lane.  James Murdock, Director 306-693-4550 www.moosejawfuneralhome.com
John 14:2. In my Father's house are many mansions; if it were not so, I would have told you; for I go to prepare a place for you.