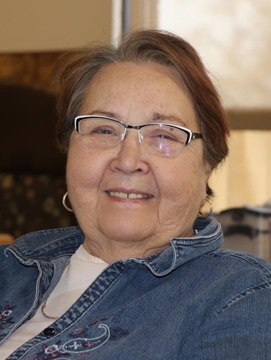 Marie Therese Hook aged 72 years of Bateman, SK, passed away on Friday, May 5th, 2023, with family by her side.  
Marie was born to the late Edmond and Irene Auger on February 28th, 1951 in Gravelbourg, SK.  She spent most of her years caring for the disabled, even caring for them in her own home.  After she retired, Marie loved spending time at home in her garden and spending time with family.
Marie met the love of her life, Cecil Berndt, in the late 90's and they lived happily together for 25 years.  Marie is survived by her children: Andrew Hook of Edmonton, AB, Adam Hook of Regina, SK, and Amy Hook of Red Deer, AB; grandchildren: Hannah, Tahya, and Alice; as well as many family and friends.
Marie was so talented in many ways.  In her younger years, she loved to paint and write poetry.  She loved to travel the world and experience all of life's adventures.  Marie had many friends all around the world, and she cherished every friendship she made.  She was immensely proud of her family and leaves behind nothing but beautiful memories.
A Private Family Service will be held at a late date.  Arrangements are entrusted to Moose Jaw Funeral Home, 268 Mulberry Lane.  Andrew Pratt Funeral Director 306-693-4550