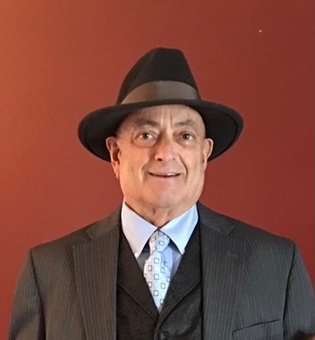 1953-2021
Eric Holmes, aged 68 years of Moose Jaw, SK, passed away on Tuesday July 20th, 2021.  Eric was born on May 6th 1953 in Saskatoon SK to Leland and Norma Holmes.  He was the second of three boys.  He attended Pleasant Hill Elementary School and then went on to Mount Royal Collegiate.
Eric was an electrician by trade.  He worked for CN Rail in Saskatoon, before moving to Moose Jaw where he worked at CP Rail until his early retirement.
Eric was a man of many passions.  He loved music and played a lot of guitar in his earlier years.  He loved to build things and even built his own ultralight airplane in his driveway in Saskatoon.  He also had his pilots' licence and loved flying the skies.
He was a member of the HAM radio club in Saskatoon and Moose Jaw which brought him many years of enjoyment, including a lot of great friends.  
Eric loved learning new things and was always reading, especially chemistry books.  You could often find him at A & W or McDonalds having a coffee and reading.
Eric spent part of 5 winters in Mazatlán with his brother Marvin and sister-in-law Sharon.  He really enjoyed his time in the warm weather away from the snow.  
Eric was funny and quirky and loved to tell jokes and be silly.  There were always laughs when Eric was around.   
Eric married Diane in April 2017 and spent these last years as a devoted husband.
Eric attended the Kingdom Hall for Jehovah's Witnesses for many years.  He enjoyed attending the meetings with Diane in person and over zoom and giving bible readings to the witnesses.  His faith was very important to him.
Eric was a very loving, "hands on" uncle to his niece and nephew Jennifer and Michael.  He spent many hours at the hockey rink and lacrosse fields watching Michael play all over Saskatchewan and BC.  This was truly one of the things he enjoyed most in life.  He was always there to help Jennifer with schoolwork and attended many dance competitions.  He was very, very proud of them of all their accomplishments.  
Eric absolutely adored his great nieces and nephew.  He attended many dance competitions, cheer competitions and ball hockey games.  They were the light of his life.
He was predeceased by his parents, Norma and Leland Holmes and brother, Kelly Holmes.
Eric is survived by his wife Diane Holmes; brother, Marvin Holmes and wife Sharon; his niece, Jennifer Chupa and husband Jasen and their two children Camryn and Reid; his Nephew Michael Holmes and wife Larisa and their two children Cecilia and Sophia and sister-in-law, Janice Holmes.  
The Funeral Service for Eric will take place on Saturday, July 24th, 2021 at 1:00 p.m. in Moose Jaw Funeral Home. Friends and family who are unable to attend may view the service live virtually by going to www.moosejawfuneralhome.com/webcast/.
In lieu flowers, donations in Eric's name may be made to the Canadian Cancer society 1910 McIntyre St. Regina, SK S4P 2R3.  Arrangements are entrusted to Moose Jaw Funeral Home, 268 Mulberry Lane.  Gary McDowell, Funeral Director 306-693-4550