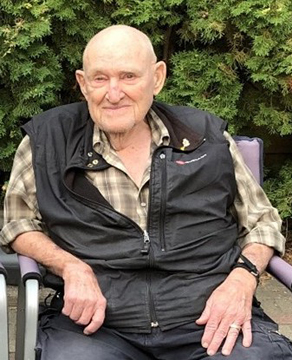 George Wilmot James Holman
George Wilmot James Holman, aged 93 years of Moose Jaw, SK, passed away peacefully on Friday, January 27th, 2023.  He was predeceased by his parents, Wilmot and Agnes Holman; wife, Lillian; sister, Margaret Rosso; as well as several brothers-in-law: Victor Rosso, Russel Boyle, Howard Boyle, Edgar Boyle, Sam Didluck and Ernie Stefanyshyn.  George is survived by his son, Gordon (Lydia) Holman, John (Jen) Schilling, April Schilling, and their families; son, Bob (Darcey) Holman, Kevin (Payton), Amy; daughter, Carol (Darcy) Meier, Kaitlyn (Durston) McKenna, Kagan; Lillian's surviving brothers, sisters and their families; and special friend, Fern Dowse and her family.
George was born on August 7, 1929, at Pasqua, Saskatchewan, and later farmed in the Eastview District. He married Lillian Boyle in 1958.  George was a hardworking, dedicated farmer and was very proud to be awarded the Farmer of the Year award.  He was an avid curler, enjoyed fishing, camping in the summers, and visiting and having coffee with neighbors and friends. George and Lill enjoyed square dancing and Odd Fellow dances for many years.  They moved to Moose Jaw in 1980, and George kept busy with his woodworking, train collection, gardening and continued curling in the afternoon and evening leagues for many years.  George and Lill travelled for many years around the world to the Brier and World Curling Championships, spent most of the summers at the cabin at Buffalo Pound Lake, and had many winter trips to Sidney, BC with friends until Lill's passing in 2002.  George continued to take great pride in his yards at the lake and in town, and was known for his tomatoes and cucumbers, and sharing with everyone.  Later, he and Fern took many bus trips-to casinos, to Churchill, Manitoba, and on a tour of the Maritimes.  They enjoyed playing cards (especially cribbage), coffee outings and visiting, and were involved with Nature Moose Jaw, bird watching and Wakamow Valley, volunteering at many family days and bbqs. George always had a special fondness for the Western Development Museum.  In 2020, due to declining health, he moved into WestPark Retirement Home.  He missed his home, garden and independence, especially driving over to Fern's for coffee every morning, so he learned to FaceTime on his iPad with her instead.  Special thanks to everyone at WestPark Retirement Home during these last few years, but especially for all the love, special care and compassion during the last month.  
At George's request, there will be no funeral service.  Flowers are gratefully declined. As an expression of sympathy, donations may be made to:  Wakamow Valley Moose Jaw, P.O. Box 1266 Moose Jaw, SK S6H 4P9 or to the Moose Jaw Western Development Museum  https://wdm.ca/donation-form/.  Arrangements are entrusted to Moose Jaw Funeral Home, 268 Mulberry Lane.  Gary McDowell, Funeral Director 306-693-4550