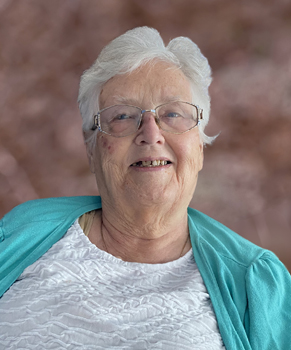 Thelma Muriel Hohner (nee Cole) passed away peacefully on May 25, 2022 in hospital at Moose Jaw, Sask., with her family by her side.
She was born to the late John (known as Jack) and Mollie Cole on August 13, 1932 in Tugaske, Sask.  Thelma attended school in Tugaske, Kew Gardens, London, Ont and Woodstock, Ont.
In 1950 she married Lloyd Hohner and they lived in Woodstock for many years before relocating to Eyebrow. Thelma had 5 children and 8 grandchildren: Nancy (Neil) Stubbs, Scott and Chris Radom; Gail (Doug) Belanger, James and Aimee; Lenard Hohner, Luke Hohner; Jill Hohner; Angela Miller, Kelly and Liam Miller and Cedar Park. She will be lovingly remembered by her children, grandchildren and 5 great grandchildren and her beloved brother Charles Cole and his family. Thelma was predeceased by her loving husband, her grandchild Luke, and her sister-in-law Rita.
Thelma was a devoted mother and grandmother. She square danced for years with Lloyd, was active in church and community, enjoyed crafts, sewing and gardening until her eyesight and health declined. After being a stay-at-home Mom with temporary and part time jobs as needed, she became an entrepreneur starting a catering business in her basement that grew to 53 employees. When she retired, they moved to Eyebrow.
The Funeral Service to honor Thelma will be held on Friday June 10, 2022 at 1:30 p.m. at Moose Jaw Funeral Home. Sandra Fowler will officiate. A time for fellowship, tea and coffee will follow. Those not able to attend may view the service virtually by going to www.moosejawfuneralhome.com/webcast/. In lieu of flowers, donations in Thelma's name may be made to the Moose Jaw Health Foundation 55 Diefenbaker Drive, Moose Jaw, SK S6J 0C2.  Arrangements are entrusted to Moose Jaw Funeral Home, 268 Mulberry Lane.  Todd Sjoberg, Funeral Director 306-693-4550