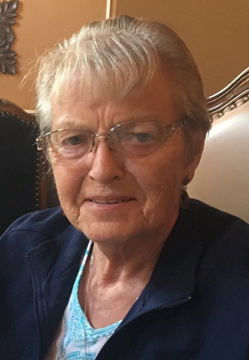 On Saturday, December 10th, 2022, our beloved mother Elizabeth Eileen Hoffman passed away peacefully at the age of 85 years.  Elizabeth was born to William and Jesse Wilkinson on July 24th, 1937 in Moose Jaw, SK.
Elizabeth grew up on the family farm near Parkbeg, SK along with her siblings Ronald, Ralph, Harry, Sheldon, and Barbara.  Elizabeth is survived by Barbara (Renald) Leblanc.
Elizabeth is survived by her children, Brent (Tina) Hoffman and Brenda (Rick) Goulet; grandchildren: André Goulet (Crystal), and their daughter Danica, Katherine Goulet (Kevin), Matthew Hoffman (Angela) and their daughters Samantha and Katherine, Rebecca Hoffman, and Rachael Tetoff (Alex) and their daughters Addison and Charlotte.
Elizabeth volunteered her time with Scouts Canada and attended the Salvation Army Church.  She enjoyed sewing and crocheting, assisting with St. Andrew's Sunday School, as well as spending time with her grandchildren.  
Thank you to the staff of Pioneer Lodge Prairie View for the special love and care they provided to our mother.  
A Graveside Service will be held at Rosedale Cemetery later in the spring.  Arrangements are entrusted to Moose Jaw Funeral Home, 268 Mulberry Lane. Michelle Ellis, Funeral Director 306-693-4550