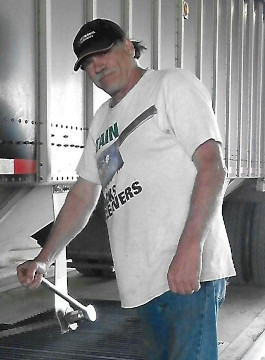 Peter George Hiebert passed away Wednesday, October 11th, 2023 in Saskatoon, SK at the age of 71 years.  Peter was born December 3rd, 1951 at the Hospital in Herbert, Saskatchewan, to his parents George and Katherine Hiebert.  He grew up on their family farm close to Herbert.
He was predeceased by his parents, George and Katherine, and by his sister, Frieda.  A much loved son and brother, Peter is survived by his brothers: Ferd, Frank, Helmut, and Harold; sister, Rosalyn; nephews: Jeffrey, Jared, and Chris; and nieces: Janessa, Karen, and Lauralee.
At a young age Peter attended the Main Centre Church with his family and participated in Sunday school there.  He attended and graduated at Herbert School.  After graduation, Peter worked on the family farm for a while.  He then moved to an occupation in the Allan Potash Mines for about five months.  In 1979, he bought the farm on the north side of Riverhurst, SK.  He chose this location because he loved the lake; the water was something that attracted him here.
Peter's brothers, Ferd and Frank, joined him on this farm and they named it Riverside Farms.  The three of them worked long hours and built the farm from the ground up.  With Peter's wonderful leadership, forward-thinking mindset, and great ideas, the farm grew immensely over the years.
In 1990 Peter started trucking in the winter months, but once winter was over, he always worked on the farm until the last day of his life.  He was the leader of the Irrigation district for many years, and also became a member of the RM Board in the last year or so.
Peter was a well respected man in the community, and many looked up to him as a mentor.  He built a community of close friends and was the most wonderful employer to his employees.  He was always kind, always willing to lend a hand, and always ready to teach someone something new.  It was always a "Morning" greeting from him no matter what time of day.  He had a great sense of humour and a kind heart.  Peter will be greatly missed.
A Celebration of Peter's Life will be held on Saturday, October 21st, 2023 at 1:00 p.m. in the Riverhurst Community Hall, Riverhurst, SK.  Pastor Willard Hasmatali will officiate and interment will take place in Riverhurst Cemetery.  Arrangements are entrusted to Moose Jaw Funeral Home, 268 Mulberry Lane.  Andrew Pratt, Funeral Director 306-693-4550