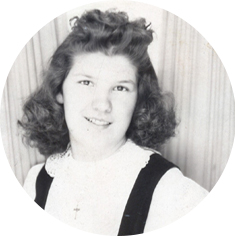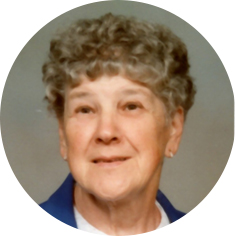 We are deeply saddened by the loss of our mother, Elsie Helen Heshka (nee Marteniuc). 
Predeceased by her mother, Zenovia and father, Nicholas, her husband, Steve; son, Wayne; brother, John (Fern); sister, Jenny (Tom); son-in-law, Don as well as sisters-in-law and brothers-in law. 
Mom will be greatly missed by her daughters, Beverly and Cheryl; son, John; sister, Minnie Mikula; daughter-in-law, Maria; grandchildren, great grandchildren, nieces, nephews and many other members of her extended family. 
Mom was one of four children born in a small house on Maple Street in Moose Jaw and as a young woman worked as a waitress at the Exchange Café when she met her husband Steve. Soon after marrying in 1941, the happy couple moved a farmhouse they purchased to Home Street, a block south of where she was born. It was here where she lived and dedicated her life to her husband and children for over five decades. Mom was a dedicated member of the community and known as an avid gardener, crocheter and devoted member of St. Michaels and All Angels Church. She was also an excellent baker and cook, teaching many women in the neighbourhood how to make pierogies and was infamous for flipping large roasters of these delicious bites to coat them in butter and onions. 
She faced a number of health challenges over the course of her life and met each with resilience and grace. She will be remembered by many as a gentle, generous, and grateful person who right until the end, always extended thanks to any expression of kindness given to her.
Over the years, Mom specifically noted the kind-heartedness provided to her by Mike Dubin, Mary Tkach and Dr. Hugo and his wife. On behalf of the family, we are also profoundly grateful for the care provided by the remarkable team at Extendicare with a few of mom's favorites being Alex, Debbie, Bryce, Sienna, Cosette, Regina, and Sandra.
Written in a note by Mom before she passed… "I'm so thankful I've been blessed with a wonderful family. To my children, grandchildren and great grandchildren, thanks for all the things you all have done for me through all the years.
If roses grow in heaven Lord, please pick a bunch for us
Place them in mother's arms, and tell her they are from us
Tell her we miss and love her, and when she turns to smile
Place a kiss upon her cheek and hold her for a while."
A Private Family Service will be held at a later date.  In lieu of flowers, memorials may be offered to St Aidan's Church. 124-1st Ave, NE. Moose Jaw, SK S6H 0A9. Arrangements are entrusted to Moose Jaw Funeral Home, 268 Mulberry Lane. James Murdock, Funeral Director, 306-693-4550