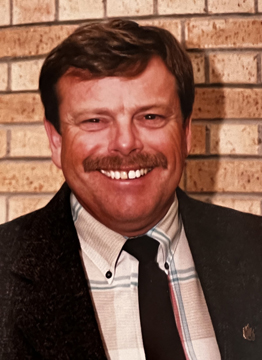 Barry Keith Heron, affectionately known as Papa Boo Boo, of Moose Jaw, Saskatchewan, passed away on Friday, September 1st, 2023 surrounded by his family.  He was predeceased by his parents, Cecil and Cynthia Heron.  Barry will be lovingly remembered by his wife of 50 years, Nancy; son, Kris (Natasha) and grandsons Kael, Ellis and Finn; daughter Amanda and grandsons Rhett and Rhys; as well as extended family in Saskatchewan and Alberta, along with his wonderful friends and golfing buddies. 
Barry grew up with his sister Carole on Algoma Street, an area of Moose Jaw in which he spent many years.  He attended King George Elementary and Central Collegiate High School.  His young adulthood was spent establishing an eclectic resume that included highway building in the NWT, the sporting goods department at Sears in Edmonton, CP Rail in Moose Jaw, and running a waterbed store in Saskatoon. 
Barry and Nancy met in university in 1970 and they were married in 1973.  After a brief time in Saskatoon, they settled in Moose Jaw where Barry started his teaching career at STI/SIAST.  He spent 30 years in the big brick building on Saskatchewan Street until he retired in 2007.  His retirement goal was to golf every day that ended in 'y', a plan he executed flawlessly for years. 
The Hillcrest Sports Centre was a feature in Barry's life, curling, golfing and volunteering at the golf course.  Anyone that played with Barry was likely witness to his spontaneous marshalling of other groups or his meticulous tee box maintenance habits.  Barry's wry humour and genuine smile will be missed by several foursomes this fall. 
Barry and his family would like to thank the outpouring of support from friends and family.  They would also like to thank the many health care professionals in Moose Jaw and from the Allan Blair Cancer Centre.  A very special thank you Dr. Willim Geyer for his care, compassion and friendship.
A Private Family Service will be held to honour Barry.  In lieu of flowers, donations in Barry's name may be made to the Allan Blair Cancer Centre c/o Pasqua Hospital, 4101 Dewdney Ave, Regina, SK S4T 7T1 or to junior golf program at whatever course holds a special spot in your heart.