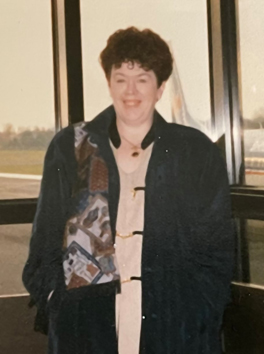 Freda Ann Henry passed away peacefully on Friday, April 1st, 2022 in Moose Jaw, SK at 72 years of age.  
Freda was predeceased by her loving father, Liam Busby and mother, Winnie Gough; and is survived by her son, Corey Henry of Washington, D.C.
Freda was born and raised in Belfast, Ireland.  She was a proud Irishwoman throughout her life and took great joy from the rich culture and generous spirit of her home country and its people.  She had hoped to live to see the day when her island would be united at long last.  Freda cherished her childhood and adolescent memories of Belfast, even though she came of age during The Troubles.  She never had, nor would ever hear, a bad word about her city.
For nearly 40 years she practiced as a registered nurse, always providing compassionate care.  Nursing was her life.  Freda was passionate about her life's work and cared deeply for the residents at Valley View Centre in Moose Jaw, SK.  She had a special bond with the residents, and they with her.  Freda never left her work at work–the mental and physical health of her patients was always close to her heart.  Even in retirement, she kept in close touch with many patients.  They were family for her.  
For those that knew her, Freda had a big heart and a big personality.  She had a kind, curious and charitable soul.  Freda cared deeply for those that cared about her, always doing whatever she could to support her friends and loved ones.  Later in life she discovered a passion for Broadway plays and musicals, having taken in more than a dozen shows in New York City.  Freda also honed her knitting skills and was fond of making blankets for cats and dogs–even some in the colors of the Irish flag.   
A Celebration of Freda's Life will be held on Friday, April 8th, 2022 at 1:00 p.m. in the Harvey Room at Moose Jaw Funeral Home.  In lieu of flowers, donations in Freda's name may be made to the Moose Jaw Humane Society, Box 1658 Station Main, Moose Jaw, SK S6H 7K7.  Arrangements are entrusted to Moose Jaw Funeral Home, 268 Mulberry Lane.  Michelle Ellis, Funeral Director 306-693-4550