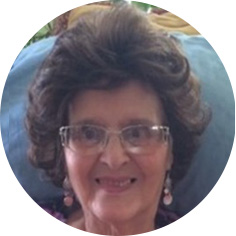 Patricia (Pat) Viola Cecilia Hemmett
It is with heartfelt sadness that we announce the passing of Patricia (Pat) Viola Cecilia Hemmett on Sunday, June 7th, 2020 at the age of 94 years, at her daughter's home, surrounded by family.  She was predeceased by her mother and father, Cecilia and Harvey Vermette; husband, Joseph Hemmett; father-in-law, Archie Hemmett; mother-in-law, Mary Miller; beloved uncle, Adelaird Labossiere; sister, Yvonne Rafter and her husband Bill (Yukon); nephew, Bill Rafter Jr. (Yukon); as well as numerous other family members and friends.  
Pat was born in Regina, SK on February 28th, 1926.  She moved to Moose Jaw as a young girl and attended St. Agnes School and Zion High School.  She worked as an usherette and ticket clerk at the Orpheum, Royal and Studio Theatres, Kresge's lunch counter, and Woolworth's in cosmetics.  When she was 16, she left school to work for the war effort at Prairie Airways upholstering airplanes.  It was there that she met Joseph Hemmett, married and had 2 children, Rick and Grace.  She was a member of the Pioneer Ladies Bowling League for many years and acquired many trophies that accented her bowling skills.  Pat enjoyed the big bands at Temple Gardens, ladies baseball, and especially family picnics at the Wild Animal Park.  She was a member of the CWL for many years until health woes dictated otherwise.  She enjoyed church bingo, festive gatherings, and playing cards after these special meals.  
Pat welcomed everyone into her home and is fondly remembered by so many for doing so.  All were welcome at her table, she gave of herself without questions or discrimination, and family was everything to her.  Pat will be greatly missed and lovingly remembered by her son, Rick Hemmett; daughter, Grace Keay (Randy Allen); granddaughter, Stacia Hemmett (Joe Dick); great-grandson, Eric Hemmett; and great-granddaughters: Lana, Scarth and Juliann Hemmett-Dick; as well as by numerous nieces, nephews, cousins and friends.
The family wishes to especially thank Dr Volker Rininsland for his continuing quality care, attentiveness and wonderful demeanor while caring for Mom for all these years.  Also, thank you to his receptionist June for being so helpful and encouraging, Doctors Howe, Waldner and Allie, as well as the numerous ER doctors, nurses and all staff involved with Mom's care at the Dr. F.H. Wigmore Regional Hospital in Moose Jaw.  Thanks to Dr Tse (Regina) and all the doctors, nurses, techs and aides from the Angio Wing at the Regina General Hospital.  Thank you Moose Jaw Home Care – everyone included, all the home care ladies, co-ordinators, nurse, aides, lab techs, office staff, scheduling – the list goes on.  We'd like to thank Moose Jaw Ambulance Service for the utmost care and safety shown to our Mom all the numerous times she took those rides.  Thanks to Dr Mark Lazurko (Ominica Dental), Dean Edwards (City Centre Denture Clinic), and Todd Sjoberg, James Murdock and Andrew Pratt from Moose Jaw Funeral Home for their compassion and support.  Thanks to Shoppers Drug Mart pharmacists, Prairie Oxygen, Sask Abilities and Amils Taxi.  In addition, a special thanks to Bev and Larry Pettigrew who were always there for her.  Thanks to Mom's dear friend, Maxine Jones, for being such a huge part of Mom's life, and thanks to 3 special ladies, Nancy Couzens, Rhonda Nicholson and Veronica King (Calgary), who always made Mom feel special and treated her as if she were their own.  Not to be forgotten, thanks to all Mom's family and friends who helped celebrate her birthday every year.  Lastly, and especially meaningful and heartfelt thanks to Mom's son-in-law, Randy Allen, who welcomed her into our home when her health was failing.  A truly wonderful man who looked after her, loved and cared for her for almost 10 years.  Please excuse if we've forgotten anyone and God Bless You All!
Due to Covid-19 restrictions, a Mass, Celebration of Life and luncheon will be announced when restrictions are lifted.  Flowers are gratefully declined.  As an expression of sympathy, donations in Pat's name may be made to the Allan Blair Cancer Centre c/o Pasqua Hospital, 4101 Dewdney Ave, Regina, SK S4T 7T1.  Arrangements are entrusted to Moose Jaw Funeral Home, 268 Mulberry Lane.  Todd Sjoberg, Funeral Director 306-693-4550.