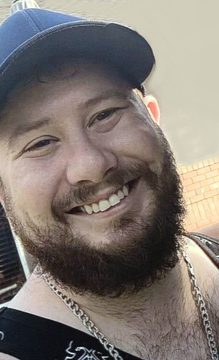 Riley Jordan Heisler (RJ, Rupert) of Moose Jaw, SK, passed away unexpectedly on September 22, 2022 at 29 years of age. His carefree spirit, warming smile, and infectious laugh that would light up a room will be sorely missed.
Riley lived the majority of his life in Moose Jaw, SK.  Over the years he made many lifelong friends that he enjoyed spending much of his time with. After graduating from Peacock Collegiate he had various jobs until he joined his brother Dustin in Fort McMurray, AB. They lived together for several years when he worked as a labourer at Suncor. Riley discovered a passion for the trades while in Fort McMurray and pursued a career as a millwright apprentice. Riley made many friends over the years while working and living in Fort McMurray staying in touch with many of them after returning to Moose Jaw following the completion of his first year of millwright school. To all of Riley's many friends he made over the years he knew you loved him as he loved you. 
Riley was predeceased by Grandfather's George Heisler, Ray Walsh and Ed Lang and Grandmother Joan Walsh.  He leaves behind his Dad, Steven Heisler; his Mom, Camille Heisler; his Brother, Blake (Candace) and children: Nina and Max; Brother, Dustin Heisler (Casey) and children Che-lyn, Jaide, and Nathan; Sister, Jaime (Ira) and child Liam; Sister, Tasia Albright; Grandmothers Phyllis Heisler and Betty Lang as well as  Aunts, Uncles, Cousins and many friends. Riley loved all of his family and always had plenty of hugs to show it.
Riley's storytelling, jokes and laughter will always be remembered. We ask those that can attend a gathering at Bobby's Place in Moose Jaw on October 3rd at 5:00 p.m. to share your stories and retell his stories as we celebrate his life the way he would have wanted with a drink, a laugh, and a hug.
A Funeral service to honor Riley will be held on Monday, October 3rd, 2022 at 1:00 p.m. at Moose Jaw Funeral Home.  A time of visitation for family and friends will be held on Sunday, October 2nd, 2022 from 3:00 to 5:00 p.m. in Moose Jaw Funeral Home.  For friends and family unable to attend, you are invited to view the service virtually by going to www.moosejawfuneralhome.com/webcast/. In lieu of flowers please make a donation to Riley's memorial fund by e-transfer to rjheislermemorialfund@gmail.com
Arrangements are entrusted to Moose Jaw Funeral Home, 268 Mulberry Lane.  Cara Ashworth, Funeral Director 306-693-4550