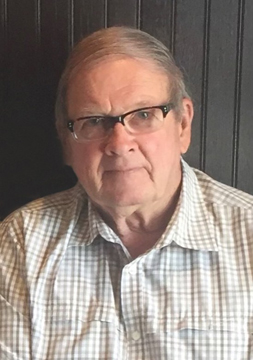 It is with great sadness that the family of Ronald Haukaas announce his passing on Thursday, August 3rd, 2023, with his family by his side.  
Ron was born on December 19th, 1937 in Brownlee, SK and was the youngest of three children.  When Ron finished school, he came to Moose Jaw, SK to work at CP Rail and later at the Moose Jaw Union Hospital.  It was while he worked at the hospital that he met Jean Memory.  They were married on October 8th, 1960 and were blessed with two children, Barry and Robin.
Later, Ron became a Service Manager at Western Dodge in Moose Jaw.  In 1961 he began employment with Trans Canada Pipelines at Caron, SK and in 1990 became the Maintenance Planner at the office in Regina, SK, where he remained until his retirement in 1999.  
Ron was a family man and loved his family deeply.  He spent many hours at gyms and rinks, coaching and cheering on his kids and grandkids in their sporting events.  He was and avid gardener, creating his yard into a happy place for all.
Ron was a husband, father, grandfather, brother, uncle, cousin, and friend.  He taught his kids and grandkids many skills such as how to tend to flowers, care for a pool, and build a tree house, and he did it "his" way.  Ron also loved the family pets.  Outings to A&W were always enjoyed, and he was always up for KFC.  
Ron developed many health problems in his later years and eventually had to go into long-term care.  We will miss him but know he is in a better place in Heaven.
He was predeceased by his parents, Ingval and Annie Haukaas; brother, Lyle "Buster" and his wife, Sharon Haukaas; Lyle's former wife, Helen Haukaas; and sister-in-law, Shirley Hamm.  Ron is survived by his loving family: wife, Jean; son, Barry (Lisa Davidson); daughter, Robin (Gary) Le Courtois; grandchildren, Marc and Stephanie Le Courtois; step-grandchildren, Brieanna and Jordan Davidson; brother, Duane (Elaine); brother-in-law, Keith (Karen) Memory; sister-in-law, Marilyn (Bob) Joseph; as well as many nieces, nephews, cousins, and friends.  
The family would like to give a special thanks to the wonderful staff of the Estevan St. Josephs Long Term Care facility where Ron spent four months.  Also, a very special thanks to our wonderful Estevan angel, Kendra Memory, his niece and nurse at the Estevan facility.  Her love, compassion and support were remarkable.  As well, special thanks to the staff at Providence Place where Ron spent his last 9 days.  
Ron is gone but not forgotten.  We Love you.
Till we meet again!
The Funeral Service will be held on Thursday, August 10th, 2023 at 2:00 p.m. at Moose Jaw Funeral Home.  Pastor Marvin Seaborg will officiate and interment will take place in Rosedale Cemetery.  Those not able to attend may view the service virtually by going to www.moosejawfuneralhome.com/webcast/.  As an expression of sympathy, donations in Ron's name may be made to The Moose Jaw Humane Society, Box 1658 Station Main, Moose Jaw, SK S6H 7K7.  Arrangements are entrusted to Moose Jaw Funeral Home, 268 Mulberry Lane.  Michelle Ellis, Funeral Director 306-693-4550