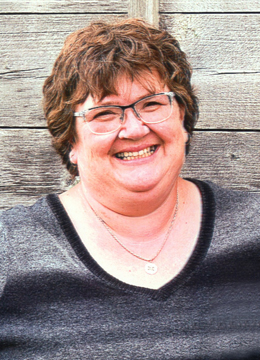 TERRY MAE HAUBRICH (née: Frank)
January 9th, 1975 – December 14th, 2022
With great sadness we announce the peaceful passing of Terry Mae Haubrich on Wednesday, December 14th, 2022, at her home surrounded by family.  
Terry was born to Russel and Marilyn Frank in Wawanesa, MB, the youngest of four children.  She spent most of her childhood growing up in Kamsack, SK.  After graduation, Terry moved to Regina, SK to take her Early Childhood Education courses.  Once completed, she joined the Sand Castles Day Care family, where she spent 25 years.  All of her co-workers quickly became friends and loved ones.  During her time there she treated all of her work children like her own.  She was so warm and welcoming with all of the parents and children.  Terry was a kind, loving, patient and incredible teacher, and an advocate for all children.
In 2004 Terry met the love of her life, David, and moved to Moose Jaw.  They were married on September 9th, 2006.  Terry became a mother to David's two boys, Michael and Matthew, and they were blessed with a son, Nathan, on September 23rd, 2008.  Their family life included many summers camping at Buffalo Pound Lake where they enjoyed hikes, swimming, bike riding, and hours around the campfire.  
Over the last years the house and yard became known as the Christmas House, with numerous displays and light shows. 
She was predeceased by her father, Russell; her grandparents; and stepfather, Garth.  Terry's sister Cheryl passed away on December 19th, 2022.  Terry leaves to mourn, her husband, David; their sons: Nathan, Michael and Matthew; mother, Marilyn Gnip; sister, Christine; brother, Richard; as well as her niece and nephews.
A Celebration of Terry's Life will be held later in the spring.
God saw you getting tired
A cure not meant to be.
So He put His arms around you
And whispered "Come with me".
With tearful eyes we watched you
And saw you fade away.
Although we loved you dearly,
We could not make you stay.
A golden heart stopped beating,
Your tender hands at rest.
God took you home to prove to us
He only takes the best.
Arrangements are entrusted to Moose Jaw Funeral Home, 268 Mulberry Lane.  Cara Ashworth – Intern Funeral Director 306-693-4550