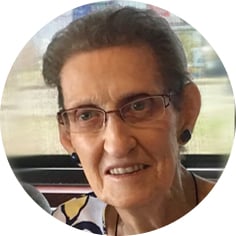 Joyce Hart passed away peacefully in Moose Jaw, SK on Sunday, April 26th, 2020 at the age of 84 years.  Joyce was born at home in Rossburn, MB and grew up on the family farm.  She moved to Saskatoon to attend Bethel Bible School where she gained life-long friendships and a husband!  Joyce and Don were married in 1958 and her wedding day was one of the happiest moments of her life. 
Joyce worked as a telephone operator for the air force before becoming a mom to Brent and later Beverley.  She was a stay-at-home mom and sold AVON, winning many awards.  She volunteered at the school library, was preschool superintendent at Elim Church, and taught preschool kid's programs at Living Waters Camp.  Time spent at Living Waters Camp each summer was a highlight for Joyce and Don.  Joyce enjoyed singing in the Golden Voices choir after they moved to Moose Jaw and she took up driving later in life.  
Joyce treasured her family and God gave her time to meet and enjoy her youngest great grandchild, Annabelle.  Joyce had an easy smile and enjoyed socializing with her church community, neighbors, and friends.  She enjoyed food and for dessert, always wanted "just a sliver".  Joyce loved to dress up, she delighted in new clothes, and purple was her favorite color … sparkles were always a plus! 
Joyce wished to be remembered for her life reflecting God.  She was a prayer warrior.  Her strong faith carried her through life and sustained her health as she continued to defy the odds: she unwaveringly trusted in God's plan and his perfect timing.  It was fitting that she passed peacefully into the arms of Jesus on a Sunday morning, dressed for the day, resting in her favorite purple recliner.
She was predeceased by her husband, Donald Hart; and by her parents, Alfred and Sarah Mitchell.  Joyce will be lovingly remembered by her family: son, Brent (Cheryl); daughter, Beverley; granddaughters, Andrea (Tyler) and Carey; great-grandchildren, Camden and Annabelle; sisters, Darleen (Wes) and Eleanor; and brothers-in-law, John and Duaine (Irene).
The family wishes to thank Dr. Amanda Waldner, Mckenzie Sauer, and the staff of Westpark Crossing for their kind care and support.  A Memorial Service to celebrate Joyce's life will be held at a later date.
In lieu of flowers, donations may be made in Joyce's name to Our Daily Bread Ministries Canada.  Joyce spent time daily doing devotions with Our Daily Bread and she always passed it on to others.  To honor her memory, when you see something purple (especially if it's sparkly) or you're at McDonalds for coffee, think of her and smile 💜 .