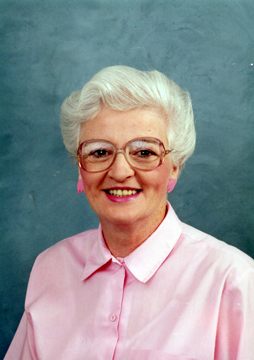 Mary Winnifred Harrison, late of Moose Jaw, SK passed away peacefully on Saturday July 9, 2022.
Mary was born to John and Ann Marsh in Nelson, Lancashire England on September 14, 1934.  Along with her family, she immigrated to Canada as a young woman in 1951, initially calling the Montreal area home. Mary eventually made her way west to British Columbia where she started her own family.  
In Abbotsford B.C., Mary became an integral team member of the Abbotsford Community Services. As the manager of the not-for-profit's thrift store, she provided inclusive employment opportunities for adults with Down's Syndrome, FASD and Traumatic Brain Injury. 
Mary's efforts led to impacts throughout her community. In the back of the thrift store, she ran a makeshift food cupboard year round, often stocking goods directly from her home pantry. From those humble beginnings grew Abbotsford's first Food Bank. Mary also delighted in orchestrating the cities' Christmas Hamper program of food and gifts for families in need. Mary was an innovator and, with the blessings of Mayor and Council, she initiated Abbotsford's very first recycling program, for discarded newspapers.  
Mary met the great love of her life, James Cruickshanks in 1980. From day trips to cross country road trips, to travel to Hawaii and England, the pair actively sought out adventures and precious time with family and friends. Avid dart players, they enjoyed friendly competitions with their fellow members of the Eagles Club and Royal Canadian Legion. After Abbotsford, they lived in the Okanagan Valley, Salmon Arm, Slave Lake, and lastly, Moose Jaw. They were deeply devoted to each other, and enjoyed a long and happy life together. 
Mary was also a very devoted daughter. Along with the help of James, she provided a happy, loving home for many years, caring intently for her elderly mother Ann and stepfather Joseph Wallsmith during their golden years. Mary was a treasured friend, sister and mother, who readily shared a laugh, a helping hand and words of encouragement to anyone struggling.  
Mary is survived by her sons Ian Walker (Darlene), Kevin Walker (Wanda) and daughter Cindy Walker; grandchildren Trevor, Shaun and Karly Walker and four great grandchildren. 
She was predeceased by her beloved James, her parents, and brothers Joseph, Leo and Stanley. 
Mary will be missed by her brothers John (Shirley) and Bernard (Claudette), and sisters-in-law Gwen and Sylvia Marsh.  She will be lovingly remembered by many cousins, nieces, nephews and extended family in Canada, the USA and England, and her best friend Pat Northup (Ron). 
Our family extends sincerest appreciation to the care team at Providence Place in Moose Jaw for the professionalism, tender care, little kindnesses and love they showered our Mary with over the many years she resided in the home. 
Family and friends will gather for a celebration of life honouring Mary later this summer in Kelowna BC, where she will be laid to rest. In lieu of flowers, memorial donations may be made to the Alzheimer Association of Saskatchewan 301 – 2550 – 12th Ave Regina, SK S4P 3X1.  
GOD LOOKED AROUND HIS GARDEN
God looked around his garden
And found an empty place,
He then looked down upon the earth
And saw your tired face.
He put his arms around you
And lifted you to rest.
God's garden must be beautiful
He always takes the best.
He knew that you were suffering
He knew you were in pain.
He knew that you would never
Get well on earth again.
He saw the road was getting rough
And the hills were hard to climb.
So he closed your weary eyelids
And whispered, 'Peace be Thine'.
It broke our hearts to lose you
But you didn't go alone,
For part of us went with you
The day God called you home
Melissa Shreve
Arrangements are entrusted to Moose Jaw Funeral Home, 268 Mulberry Lane.  Andrew Pratt Funeral Director 306-693-4550