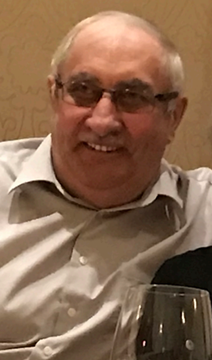 Wilfred William Harlos aged 79 years of Regina, SK, left this world on Saturday, April 1st, 2023, sent off with love from a family grateful for a lifetime of love and guidance.  
He was predeceased by his parents, William and Charlotte; siblings: Gottfried (Agnes), Walter, Kaye (Ainsley) Reneau, and Sylvia (Paul) Ingold; mother and father-in-law, Gladys and John Erdelyan; granddaughter, Amanda Harlos; and nephew, Daryl Harlos.  Wilf is survived by his loving wife, Cheryl; sons: Darren (Jen), Randy, and Michael (Erin); grandchildren: Emily (Cody) Lemon, Ava, Macy and Everett Harlos; brothers and sisters-in-law: Garry and Joyce, Ken and Janet, Terry and Carla Erdelyan; as well as many extended family members and dear friends.
Wilf grew up in Spring Valley, SK.  He was very athletic playing ball, football and competitive curling into his 60's.  In 1977 he played in the Provincial Curling Championships which was a real highlight.  He loved the Roughriders, Blue Jays and Montreal Canadians.
In 1968, Wilf married Cheryl Erdelyan and they moved to Avonlea, SK.  They spent 38 years creating memories in the home that Wilf built for them.  In 1973, they welcomed Darren to their family, in 1975 Randy was born, and Michael rounded out the herd in 1977. 
Wilf spent 25 years working at the Claybank Brick Plant until it closed in 1989.  He then went on to work at Clark Agri-Services until he retired.  Wilf did many things to support his family, but none that he loved more than his time spent farming.  Wilf farmed his whole life while working full time.  Wilf's work ethic was admirable as he never complained about the long days of physical labour providing for his family.
Wilf spent many happy hours coaching his sons' ball teams or driving them to their hockey games.  He never missed a game, often loading up his Oldsmobile with extra kids as well.  The unexpected thrill of being called "Grandpa" brought much joy to Wilf's later life.  His grandchildren were his pride and joy and it showed, even driving 5 hours to bring his dog for a grandchild's Show and Tell. 
Our family is very grateful for the wonderful care of the Palliative Home Care nurses and Palliative nursing staff and doctors on 3A.  Special thanks to Dr. Morris for his compassionate care and receptionist Marnie.  Thank you to Delbert Chicoine for his friendship and visits.
A Celebration of Wilf's Life will be held on Saturday, April 8th, 2023 at 11:00 a.m. in Moose Jaw Funeral Home with Reverend Jennifer Holtslander officiating.  Those not able to attend may view the service virtually by going to www.moosejawfuneralhome.com/webcast/.  In lieu of flowers, donations in Wilf's name may be made to the Avonlea Coteau Range Manor Activity Fund, Box 60, Avonlea, SK S0H 0C0
God keep you till we meet again.
Arrangements are entrusted to Moose Jaw Funeral Home, 268 Mulberry Lane.  Andrew Pratt Funeral Director 306-693-4550