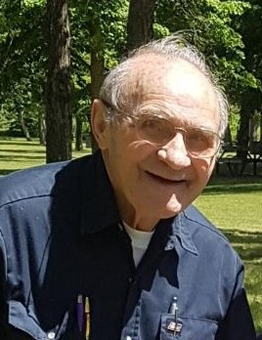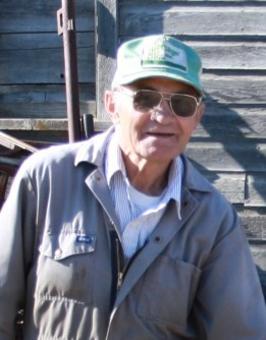 With heavy hearts, the family of Peter Harlos announce his passing on Friday, January 7, 2022. Dad was born on December 13, 1933 at home on the farm near Spring Valley and growing up in the 1930's and 40's was not easy but it gave Dad the inner strength, determination & work ethic that guided him through his lifetime. Observing him live these principles, instilled the same values in his daughters…he was beyond proud of all our accomplishments.
Over Dad's lifetime he had many jobs, from oil field worker in southeast Saskatchewan to heavy equipment operator during the building of Gardiner Dam/Lake Diefenbaker and the Mackenzie Highway to project supervisor during construction of the Heavy Oil Upgrader in Regina. Dad also supervised numerous road construction projects in southern Saskatchewan including twinning sections of the Trans-Canada Highway. But these were just jobs…..he was a farmer in his heart and being a farmer was never a job to him it was who & what he was; Dad loved the land and all the animals on it, tame & wild. One of Dad's greatest attributes (& faults!) was leaving his own work unfinished to go help anyone who needed it, most times without being asked.
Dad and Mom were married on June 29, 1956 in Bengough and spent 65 years together, 45 of them on the farm site they built from the ground up. Due to declining health, the difficult decision was made to move off the farm and into Mulberry Estates in Moose Jaw. Dad's final year was spent in long term care in Weyburn & Moose Jaw and we cannot express our appreciation enough to ALL the staff at Tatagwa View and Providence Place for the incredible care he received.
Dad was predeceased by his father & mother John & Elsie, brother Rudi, brother Ted & sister-in-law Dena, sister Matilda, numerous extended family, and too many furry companions to name them all.
Peter is lovingly remembered by his wife Ilene, daughters & sons-in-law Cindy & Jake Wiebe, Wendy & Jerry Breton, Lorena & Dwayne Raczynski, Liana & Cory Turner; grandchildren Jeff (Stacey), Jody, Lisa, Marcel (Becky), AJ (Ashton); great-grandchildren Jacob, Conor, Brynlee, Piper, Kieran, Dominic, Avery, Emersyn; and sister Elsie. Dad is also remembered by many more family and friends; he thought the world of each and every one of you.
There will be no funeral service at this time; a private family event will take place at a later date. Although the thoughtfulness of flowers is greatly appreciated, please consider a donation in Dad's name to the Moose Jaw Humane Society, PO Box 1658, Moose Jaw, SK, S6H 7K7 or the Alzheimer Society of Saskatchewan, #301 – 2550 – 12th Avenue, Regina, SK, S4P 3X1.
Arrangements are entrusted to Moose Jaw Funeral Home, 268 Mulberry Lane.  Todd Sjoberg, Funeral Director 306-693-4550