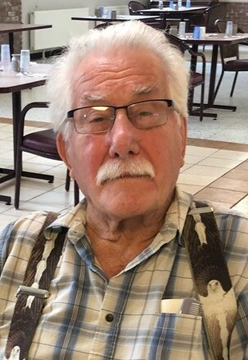 It is with heavy hearts we announce the passing of our father, brother, grandfather, great-grandfather, and friend, Clarence (Ken) Harder on Friday, July 21st, 2023.  He was predeceased by his wife, Corrine; son, Curtis; parents, Peter and Maria; siblings: Philip, Earnie, Isabel (John) Longman, and Irene (Archie) Blatz; sister-in-law, Marilyn Serack; and mother and father in-law, William and Kaye Serack.  Ken will be lovingly remembered by his sons: Brad (Wanda), Lindsay (Colleen), and Derek (Tammy); grandchildren: Kali (Devon), Jolee (Keith), Dylan, Tyson, and Wayd (Brittany); great-grandchildren: Brooks, Thomas, Dahlia, Rhett, Rayleigh, Cohen, and Emarie; special friend, Inez; siblings, Ethel and Harold (Noella); in-laws: Robert (Ruth), Gerald, Sheila (Jim), Cathy (Reiny), Ken (Ruth), Elizabeth (Lloyd), Marcella Harder, and Julie Harder; as well as numerous nieces and nephews, and many wonderful friends. 
Ken was born on August 29th, 1934 to Peter and Maria Harder.  He married Corrine Serack in Saskatoon, SK in 1959 and together they raised four sons and numerous foster children. 
Ken served from 1953 – 1980 with the Royal Canadian Air Force as an airplane technician.  During his career he served at many military bases including at West Germany, Penhold, AB, Saskatoon, SK, and finally Moose Jaw, a community he called home for the next 57 years.
Ken enjoyed hockey, including playing the game when he was younger, and being a season ticket holder of the Moose Jaw Warriors until his health did not allow him to attend the games anymore.  But he still always asked Brad "How did the boys do last night?"
Ken and Corrine loved playing cards with their friends.  With Corrine's passing, Ken continued to play cards with these friends until everyone's health declined.
For many years, Ken could be seen at his favorite hangout, Tim Horton's on Thatcher.  Any time of day or evening, he could be spotted at Tim's.  He enjoyed his coffee with his friends or he just people watched.  Many strangers became his new friends when he asked who they were and what brought them to Tim's.
Several years after the passing of his wife Corrine, Ken found love again.  On one of his trips to Tim Horton's, he met Inez White.  For the last seven years of his life, he enjoyed spending time with Inez, whom he affectionately referred to as his sweetie. 
Ken's health declined last fall resulting in a move to Chateau St. Michael's Nursing Home and he wasn't even there half a day before saying "I like this place."  He loved joking with the staff and he said the meals were always wonderful, even if he could not always remember what he ate.  We want to thank all the staff at Chateau St. Michael for the wonderful care Ken received.  As well, thank you to the caring staff at the Dr. F.H. Wigmore Regional Hospital for the care he received in his final days. 
The Funeral Service will be held on Saturday, July 29th, 2023 at 2:00 p.m. in Moose Jaw Funeral Home.  Ken Muirhead will officiate and interment will take place in Rosedale Cemetery at a later date.  In lieu of flowers, donations in Ken's name may be made to a charity of one's choice. Those not able to attend may view the service virtually by going to www.moosejawfuneralhome.com/webcast/. Arrangements are entrusted to Moose Jaw Funeral Home, 268 Mulberry Lane.  Andrew Pratt, Funeral Director 306-693-4550