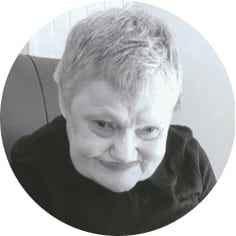 It is with great sadness we announce that our beloved friend, Helen Hanson, passed away on Monday, May 6th, 2019.  Helen spent most of her life at Valley View Centre in Moose Jaw, SK.  Touching many hearts, Helen came to live in the community with the love and support of Sask Abilities.  She enjoyed many activities such as going to Humpty's for lunch and shopping at Walmart. We will remember Helen for her smile, playfulness, and the love she had for her stuffies.  We would like to invite former and present Valley View Centre and Sask Abilities staff to share memories of Helen as we celebrate her life on Friday, May 17th, 2019 at 1:30 p.m. in the Valley View Centre Assembly Hall.  
In tears we saw you sinking,
We watched you fade away;
You suffered much in silence,
You fought so hard to stay.
You faced your task with courage,
Your spirit did not bend,
But you still kept on fighting
Until the very end.
God saw you getting tired
When a cure was not to be,
So He put His arms around you
And whispered "Come to Me".
We could not wish you back
to suffer that again.
In God's own time
We will meet again.
Arrangements are entrusted to Moose Jaw Funeral Home, 268 Mulberry Lane.  Gary McDowell, Funeral Director 306-693-4550