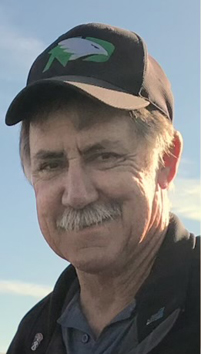 1955 – 2022
Keith Gordon Hall, aged 66 years of Mortlach, SK passed away peacefully at home on Thursday, April 28th, 2022.  He was predeceased by his parents, Gerald and Doris Hall.  Keith will be lovingly remembered by his wife of 40 years, Lorrie (Lorraine); children: Chad (Angela) Hall of Moose Jaw, SK, Tyler (Jessie) Hall, and Nick (Aspen) Hall of Mortlach; grandchildren: Gemma and Quintin of Moose Jaw, Dallas and Sadie of Mortlach, and Gavin, Myla and Nora of Mortlach; sisters, Charlene (Vern) Dulmage of Regina, SK and Donna (Geoff) Cowell of Ottawa, ON; mother and father-in-law, Marge and Stan Gardner of Moose Jaw, SK; sister-in-law, Cheryl Anhorn of Westbank, BC; brothers-in-law, Rick (Tracy Gardner) of Mortlach and Rob (Renee) Gardner of Moose Jaw; as well as many nieces, nephews, cousins and wonderful friends.
Keith was born in Moose Jaw, SK on December 26th, 1955 to his parents, Gerald and Doris Hall.  He was raised on the family farm southwest of Mortlach and grew up with 2 older sisters, Charlene and Donna.
Keith's first love was farming and he started with 3 quarters of land in 1973 at the age of 17.  He married Lorrie (Gardner) on October 3rd, 1981, moving into the family farm house and raising 3 boys: Chad, Tyler and Nick.  He remained on the farm, farming the land for 49 years.  The last couple of years were a struggle but he was still able to get into the sprayer or tractor to work his share.  One of his proudest accomplishments was receiving the Century Family Farm Award in 2009.  Keith's sons continue the tradition of farming the original land continuously for 118 years.
Throughout his younger years Keith enjoyed many sports, including softball with the Mortlach Jets, playing 2nd base for many years.  He also grew up playing hockey and in the later years, he enjoyed being the referee for the Mortlach senior hockey team.  He enjoyed many curling events with friends and family, becoming a curling coach for his sons and other students at the Mortlach School.
Keith enjoyed watching sports as well, and of course all of his son's events and recently the grandchildren's events.  He held Warrior season tickets for 40 years.  He cheered for the Blue Jays and the Montreal Canadiens.  Recently he enjoyed watching his nephew, Rhett Gardner, play hockey with the Texas Stars and Dallas Stars.
Over the years he was part of many community organizations, the local Sask Wheat Pool Committee for 20 years, and the local Recreation Board for over 30 years, and the local Kinsmen Club for 40 years.  During his Kinsmen years, he received his Life Membership with the organisation and sat on many local and provincial committees.  Keith and Lorrie also chaired Telemiracle 32 in 2008, supported by a wonderful committee.
Throughout the many years, as well as several committees and events, Keith and Lorrie accumulated so many close friends.  Thanks to all of Keith's wonderful friends and family for giving them a life of enjoyment and gratitude.  
The Funeral Service will be held on Thursday, May 5th, 2022 at 1:00 p.m. in Zion United Church, 423 Main St N, Moose Jaw, SK.  Reverend Tim Ellis and Reverend Deacon Arleen Champion will officiate and interment will take place at Sunset Cemetery.  Those not able to attend are invited to view the service virtually by going to https://youtu.be/yRRcoGZ3et8.As an expression of sympathy and in lieu of flowers, donations in Keith's name may be made to Kinsmen Telemiracle Foundation, 2217C Hanselman Court, Saskatoon, SK S4L 6A8.  Arrangements are entrusted to Moose Jaw Funeral Home, 268 Mulberry Lane.  Andrew Pratt Funeral Director 306-693-4550