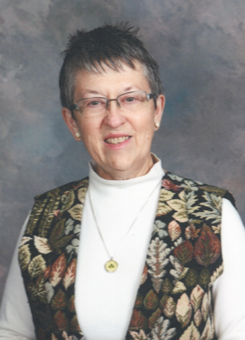 Our dear wife and mother, Nancy Jean Hale, after a long struggle with Alzheimer's disease, defeated it and was set free on Monday, November 1st, 2021.  Her spirit is now with the other angels.  She was predeceased by her parents, Bill and Hazel Rintoul; and sister, Janet Beler.  Nancy leaves behind to celebrate her life: her loving husband of 48 years, Chris; daughter, Shannon (Mason) and their twins Grace and Renny; son, Sean (Jing) and their children Claire and Carson.  Nancy is survived by her brother, Rod (Allison) and their daughter Emily; brother-in-law, Ed Beler; as well as nephews, Brent and Paul (Lorinda) and their children.
Nancy was born and raised in Moose Jaw, attended King George public school and Central Collegiate High School, where she was voted Miss Cheerleader in her senior year.  Nancy went on to the University of Saskatchewan in Saskatoon, SK where she was among the second class to graduate with a math and computer degree.  It was there that she met Chris.
Nancy was employed by different branches of the provincial government over 37 years, where she rose to management positions.  This is where she made many lifelong friends at the Systems Center and later on the executive of the Regina Branch of the Canadian Information Processing Society.  As well, Nancy made many lifelong friends in her close-knit farming community.
Nancy enjoyed travelling.  Nancy and Chris were fortunate to travel to the Disney destinations, take Caribbean Cruises, and travel to Europe several times, often with their children, and have many great memories of these adventures.  
Another memory for Nancy was the time she spent in her youth at the family lake front cottage at Buffalo Pound Lake.  The family lived there in the summer months and she loved to swim, therefore much time was spent in the water as well as boating on the lake.  Nancy still owned hillside property at the lake and would occasionally visit to reminisce.  
At home, Nancy loved her Boxer dogs, farm cats, flowers and gardening.  Nancy was a wonderful wife, mother, and companion.  She will be greatly and deeply missed.
We would like to extend our sincere appreciation to Dr. Geyer, who was involved in caring for Nancy in the latter stages of her illness.  The family will be eternally grateful to the nurses and care givers at Providence Place.  The care there was beyond the call of duty.  The family would also like to thank Pastor Marvin Seaborg and Michelle Ellis of Moose Jaw Funeral Home for organizing the celebration of Nancy's life.
The Celebration of Nancy's Life will be held on Saturday, November 20th, 2021 at 1:00 p.m. in Moose Jaw Funeral Home.  Pastor Marvin Seaborg will officiate and interment will take place at Rosedale Cemetery.  Those unable to attend are invited to view the service virtually by going to www.moosejawfuneralhome.com/webcast/.  In lieu of flowers, donations in Nancy's name may be made to the Alzheimer Association of Saskatchewan, 301 – 2550 – 12th Ave, Regina, SK S4P 3X1.  Arrangements are entrusted to Moose Jaw Funeral Home, 268 Mulberry Lane.  Michelle Ellis, Funeral Director 306-693-4550.