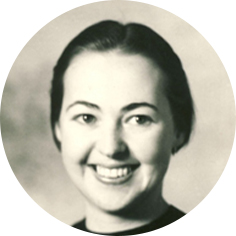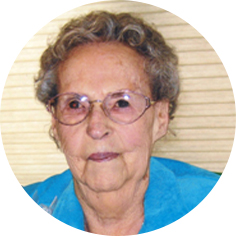 Annie "Anne" Emma Hagerty
March 24th, 1915 – June 21st, 2016
Annie "Anne" Emma Hagerty, aged 101 years of Moose Jaw, SK, went to be with her Lord on Tuesday, June 21st, 2016.  Born and educated in Lumsden, SK, she moved with her family to Keystown in 1931 where they continued to farm.  She met Archie Hagerty in 1941 through whose influence she made "the most important decision of my life", namely accepting Jesus.  They were married on October 19th, 1946 and farmed at Stony Beach, but lived in Moose Jaw.  A homemaker, Anne focused her attention on her children and activities at the Apostolic Church.  Frequent billeting of missionaries enriched the family.  Anne's favorite outing was attending Ladies Missionary Group.  At home she loved to bake and cook.  On Sundays the family sat down to a feast.  Anne also enjoyed her outdoor flowers.  Frequently Anne assisted Archie with many of his work projects.  An avid reader, she often read during the lulls.  Anne's final years were lived at Chez Nous and Pioneer Lodge.  Thanks to all the caregivers.  She was predeceased by her parents, James and Carrie Baird; husband, Archie (2001); siblings: Mary (Jack) Barmby, John (Jo), Norman (Mona), and Fannie (Art) Harvey; brother-in-law, Evan (Emma); sister-in-law, Verna (Percy) Young; great-grandson, Owen (2011); and son-in-law, Jim Strom (2014).  Anne leaves to celebrate a life well lived, children: Jim (Merle), Shelda Strom, Ron (Sharon), Marg Hagerty, and Ross (Nadine); 13 grandchildren; 26 great-grandchildren; and cherished nieces and nephews.  The Funeral Service will be held on Sunday, June 26th, 2016 at 1:30 p.m. in Moose Jaw Funeral Home.  Reverend Walter Engel will officiate and interment will take place at Sunset Cemetery on Monday.  Flowers are gratefully declined.
Who can find a virtuous woman?
For her price is far above rubies.
Proverbs 31:10
Arrangements are entrusted to Moose Jaw Funeral Home, 268 Mulberry Lane.  Todd Sjoberg, Funeral Director 306-693-4550