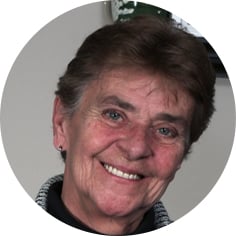 It is with deep sorrow that we announce the sudden passing of Beverley Lynne Guy on Wednesday, March 4th, 2020.  Lynne was born May 18th, 1956 in Claresholm, Alberta, the daughter of George and Margaret Billyard.  Lynne married Barry Guy of Parkbeg, Saskatchewan on May 26th, 1973.  Lynne and Barry lived in Claresholm, Parkbeg and several small towns, settling in Moose Jaw, SK in 1982.  Lynne was employed by Canadays Apparel and Peavey Mart. She had two loving daughters, Angela and Chasidy.  
Lynne loved to cross-stitch, do beadwork and take care of her three dogs: Zoey, Pyper and DJ.  She was an excellent seamstress. Lynne also enjoyed an annual birthday trip with her daughters.  She was happiest when surrounded by family, friends and the family dogs on her sunny deck.
She was predeceased by her paternal and maternal grandparents; parents, George and Margaret; mother-in-law, May Guy; sister, Betty Heward; brother, Ardell Billyard; and sister-in-law, Dianne Westermann.  Lynne is survived by her husband, Barry; daughters, Angela (Mike) Taylor and Chasidy Guy (Martin Muhle); grandchildren: Anthony (Jessica) Taylor, Ashlee Taylor, Bryce (Vanessa) Taylor and Takoda Taylor; great-grandchildren: Anthony, Austin, Adeline, Archer and Royce; brother, Dale (Lorna) Billyard; sisters, Carol (Herman) Doublet and Fran (Roger) Hohm; and sisters-in-law, Phyllis (Don) Fischer and Tammy (Dave) Burns.  
A Private Family Service will be held.  Flowers are gratefully declined.  As an expression of sympathy, family would appreciate donations in Lynne's name be made to The Moose Jaw Humane Society, Box 1658 Station Main, Moose Jaw, SK S6H 7K7 or Bright Eyes Dog Rescue, PO Box 31088 Normanview PO, Regina, SK S4R 8R6.  Arrangements are entrusted to Moose Jaw Funeral Home, 268 Mulberry Lane. Andrew Pratt Funeral Director 306-693-4550.