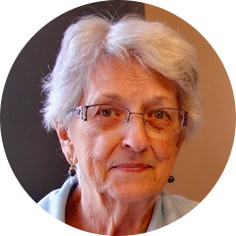 Dorean Louise Griffith (née: Chymbur)
Dorean Louise Griffith (née: Chymbur), born in McMahon, SK on August 24th, 1932 to George and Pearl Chymbur, passed away peacefully on Wednesday, February 5th, 2020 in Moose Jaw, SK at the age of 87 years old.  
Growing up in Southern Saskatchewan, Dorean lived in several small towns due to her father's employment with CP Rail.  In Limerick, SK she met and later married Iver Griffith on December 10th, 1949.  They stayed on the farm for several years where two children were born, Tom and Brenda.  Iver re-enlisted in the Air Force and they were posted to different bases in several provinces, with the longest being at Gimli, MB and eventually Moose Jaw.  Two more children were born during these years, Dianne and Faye.
Dorean worked throughout her life at many jobs, notably at Eaton's Department Store and CFB Moose Jaw, before deciding to go back to school at STI at the age of 39 to obtain her Business Office degree.  She loved going back to school and this was one of her fondest endeavors and memories. Dorean loved to golf, curl, knit, sew, dance, read, photography, her garden, and most notably playing her piano every day.  When the world of technology came along, Dorean embraced this and relished in learning new skills on the computer and was usually ahead of the family in her abilities. She was feisty and very independent, which helped her navigate the world after Iver passed away in 1986.  In 2001, Dorean met John Cobbe of Limerick and they spent 14 wonderful years together in Moose Jaw until his passing in 2015.
Dorean was always willing to help out her family, especially her many grandchildren who lived with her for short periods of time.  She was always teaching them and expected her rules to be obeyed, especially the "no hat rule at the kitchen table". She always enjoyed their company when visiting with her.
Loved ones predeceased are her parents, George and Pearl Chymbur; siblings: Robert Chymbur, Anne Brent, Mary Slater and Georgina Amsen; husband, Iver Griffith; and partner, John Cobbe.  Dorean is survived by her children: Tom of Prince Albert, SK, Brenda (Wes) Locken of Penticton, BC, Dianne Davidson of Moose Jaw, and Faye (Jack) Diacon of Edmonton, AB; nine grandchildren and great-grandchildren; special niece, Maureen Slater; and best friend, Anna Francis.  A Private Family Service will be held.  In lieu of flowers, a donation in Dorean's name may be made to a charity of one's choice.  
Arrangements are entrusted to Moose Jaw Funeral Home, 268 Mulberry Lane.  Michelle Surtees, Funeral Director 306-693-4550.