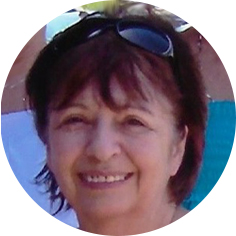 Cathy Gregory, aged 65 years of Moose Jaw, SK passed away in the arms of her son Shawn on Sunday, November 25th, 2018 after a short but courageous fight with cancer.  Cathy was born in Lethbridge, AB in December 1952 to Robert Toombs and Valerie Toombs (née: Gomersall).  She was the oldest of a family of four: sisters, Roberta and Pat and brother, Kelly. Cathy married the love of her life, Steve Gregory, and lived the nomadic life of a military family.  Home was where she was at that moment, and home and family were very important to Cathy. She was predeceased by her husband, Steve; her parents; and her sister, Roberta. Cathy is survived by her son, Shawn; her daughter, Shanna Petreman McNeil and her family – husband Pat, sons Adam and Michael, and great-granddaughter Elizabeth; her youngest son, Scott and his wife Grace, and Cathy's pride and joy grandson, Stephen; brother, Kelly; sister, Pat (Ryan) and her sons Cooper and Tyson Mason; and Roberta's children, Krizsta (Eric) and William (Heather, Josh and Graham).  This notice would be ten pages long if all of Cathy's accomplishments were to be listed. Words would never be able to truly define that is what was Cathy. This poem is closest to what was truly one Grand Lady and her wishes.
If I am called before you
And you're left to carry on
Somethings I'd like to ask of you
When my time here is done
I'd like to be remembered
For the kindness I once shared
I'd like to be remembered
For the way I loved and cared
To honour me, keep reaching out
Stand tall, and walk with love
Know that I'll be smiling down
As I watch from above
I know that you will miss me
And that there will tears shed
But please remember good I've done
And how my life was led…
To honor me and the love we shared
Just do this simple things
Find the song within your heart
And sing my darling… sing
I wish so much for you, dear one
That strength takes over fear
That when you sad, you persevere
That laughter takes your tears
So do you best, and live your life
And know with certainty
That I'm watching over you
Although you cannot see
Soon enough your day will come
We'll be together then
Remember me with love and smiles
Until we meet again.
A Graveside Service will be held on Saturday, April 20th, 2019 at 1:00 p.m. in Rosedale Cemetery.  Those wishing to attend should meet at the cemetery gates by 12:45 p.m.  In honour of Cathy, those wishing to wear hats are encouraged to do so.  Flowers are gratefully declined. As an expression of sympathy, donations in Cathy's name may be made to Five Hills Palliative Care Program c/o Five Hills Health Region, 55 Diefenbaker Drive, Moose Jaw, SK S6J 0C2.  Arrangements are entrusted to Moose Jaw Funeral Home, 268 Mulberry Lane. Todd Sjoberg, Funeral Director 306-693-4550