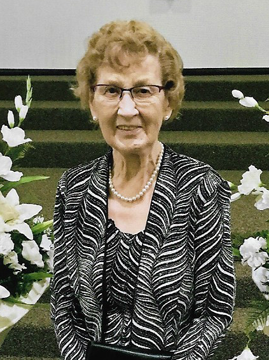 Doris Elaine Gregor (née: Hegge) aged 86 years, passed away peacefully on Wednesday, November 16th, 2022 in Moose Jaw, Saskatchewan.  She was predeceased by her husband of 50 years, Ronald Paul Gregor; siblings, Laverne and Dennis Hegge, and Deanna Mattin (Hegge).  Doris is survived and lovingly remembered by her sister, Marilyn (Dahl) Hegge; children: Bradley Gregor, Lorn (Gizelle) Gregor, and Darla (Richard) Verity; grandchildren: Nolan (Adrienne) Gregor, Alexandra Gregor, Johnathan and Emma Verity; and great-granddaughter, Juniper Gregor.  
Doris was born January 1st, 1936 to Thom Julius and Elin Hegge in the family farmhouse near Bromhead, SK, located nine miles north of the Canada/US border.  
Doris entered the Regina General Hospital School of Nursing in 1955 and graduated as an RN from Graduate Nurses training at the Moose Jaw Union Hospital in January 1958.  She became the night supervisor of the MJUH in a nursing career that spanned 44 years.  Doris was well known to be the only person to be able to start a difficult IV when everyone else had failed.
Doris married Ronald Gregor on July 16th, 1960.  Together they lovingly raised a family of three children: Bradley, Lorn and Darla, in the city of Moose Jaw, SK.  They also farmed at Chaplin, SK and then at the Tuxford/Marquis area.  
Doris' life exemplified a life committed to Jesus, family, and hard work.  She saw things through during the best and worst of times.  She and was a person you could always trust to turn to in times of trouble and need.  Her life laid the foundations of ours.  She will forever be in our hearts.
The family would like to thank the staff of Westpark Crossing, and Lorn Gregor who provided for Mom's care.
The Funeral Service will be held on Saturday, November 26th, 2022 at 2:00 p.m. in Hillcrest Apostolic Church, 1550 Main St N, Moose Jaw, SK with Pastor Steve Atkins officiating.  As an expression of sympathy, donations in Doris' name may be made to the Hillcrest Apostolic Church, 1550 Main St N, Moose Jaw, SK S6J-1L3.  Arrangements are entrusted to Moose Jaw Funeral Home, 268 Mulberry Lane.  Gary McDowell, Funeral Director 306-693-4550