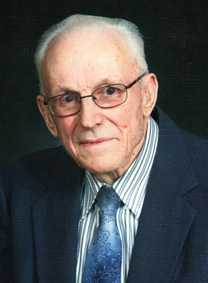 1918 – 2021
Charles (Charlie) Edward Gray was born March 5th, 1918 to Frank and Ellen (Sawyer) Gray at Grayburn, SK in the farm house on his parent's homestead.  He came into this world without the aid of a doctor who was delayed delivering the baby of a nearby neighbour.  Charlie passed away at the age of 103 years on Sunday, April 4th, 2021 at Providence Place in Moose Jaw, SK.  He was the fourth child of five children, with three brothers and one sister.  He was predeceased by his siblings: Jean (Wagg), John, Bob, and Dave Gray; and his wife of 66 years, Gladys (Ferris) in 2007.  Charlie is survived by his children: Darl (Judy), Calvin (Shar), Colleen (Jake) Hamm, Katherine (Dwight) Purdy, and Ron (Maria); 16 grandchildren and 27 great-grandchildren.  
Charlie received his education from Grade 1 to Grade 8 at Grayburn School, which was a short one and a half mile walk from home.  After taking High School by correspondence, he attended Prairie Bible College in Three Hills, AB and the Briercrest Bible College at Briercrest, SK.  With the outbreak of WWII, he enlisted in the Air Force and was posted to bases in Nova Scotia and Newfoundland, serving as an airframe mechanic maintaining air craft involved in anti-submarine patrols.  He often spoke of the hospitality of the Maritime people, and he made many friends there.  Charlie took advantage of his "leaves" and travelled to Miami, and often spoke of one New Year's Eve on Times Square in New York.
After discharge from the service at the end of the war, Charlie spent one winter hauling cord wood in the bush of Northern Ontario that had been cut and stacked by German POW's.  He returned to Grayburn in 1947 to make preparations for a place to call home for him and his new bride Gladys.  They thrived on building their family and their farm life.  They worked together caring for their family and Charlie enjoyed farming and fixing machinery, as well as always working on a building project.  He completed his last project in his 80's.
Charlie loved to travel and when the children were young, the family made several trips to the mountains, British Columbia, and Ontario.  After the children were grown, he and Gladys took holidays to Alaska, Florida, and he and his daughter Colleen made a trip back to the Maritimes where he could relive his time spent there many years before.  He always made time for day trips to Lovering Lake and Besant Park, and built a new cabin at Arlington Beach, which was a great gathering place for his children and grandchildren.  
Summer was a busy time at the farm and in winter, Charlie enjoyed curling and watching Hockey Night in Canada on the black and white Rodgers Magestic TV.  The Pool Bonspiel was a favourite that he always looked forward to participating in.  Charlie was a long-time member of The Gideons and particularly enjoyed delivering bibles to the school children.
As much as Charlie loved farming, his passion was for his family and his God.  He always put his family before himself and was an example of a consistent Faith in God.  His bible was well worn and his prayers were sincere.  
Charlie loved to be surrounded by his grandchildren and he always made time for them.  He could often be found in his big recliner with kids piled on top of him, with him reading to them.  He left us with a great legacy and many memories. 
"I have fought the good fight, I have finished the course,
I have kept the faith."  2 Timothy 4:7
Due to Covid-19 restrictions, a Private Family Service will be held to honour Charlie with interment following at Sunset Cemetery.  Friends and family are invited to watch the service virtually on Saturday, April 10th, 2021 at 10:30 a.m. by going to www.moosejawfuneralhome.com.  As an expression of sympathy, donations in Charlie's name may be made to The Gideons International in Canada, PO Box 3619 Stn Main, Guelph, ON N1H 9Z9.  Arrangements are entrusted to Moose Jaw Funeral Home, 268 Mulberry Lane.  Gary McDowell, Funeral Director 306-693-4550