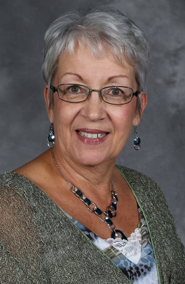 It is with great sadness that we announce the passing of Wendalea Goodhand, aged 69 years of Moose Jaw, SK on Thursday, March 18th, 2021.  Wendy was born to George and Loraine Arnold in Blairmore, AB on January 19th, 1952.  She was predeceased by her father, George.  Wendy is survived by her mother, Loraine; 5 siblings; husband, Tom; children: Dean (Annette), Dave (Kelly) and Erin (Dwain); Wendell (Tracy); grandchildren: Desarae, Dylan, Danielle, Kaylee, Clara, Henry, Will, Joie, Dylan, Ryan, Tyler, and Cody; and a handful of great-grandchildren.
Wendy was raised with strong Christian faith.  Her devotion to God provided her strength in her daily life.  Passion for music was an inherent gift that Wendy possessed.  From her early years, Wendy was shaped by the love of music shared within her family.  She began piano lessons at age 6 and started on alto sax at age 12.  On the Stalwart farm, her sisters reminisce that they would hear Dad ask Wendy to play Alleycat every evening.  Sometimes two to three times a night!  As an adult, she was active as a piano teacher, accompanist, general music instructor, band teacher, choral director, chorister and Saskatchewan Choral Federation (SCF) Board Member which includes 12 years on the board (serving two terms as president).  Her desire to nurture musical growth in her students has guided many developing musicians.  In 1991 she completed her education degree and began teaching at Esterhazy High School, where she raised many successful musical groups.  In 1998 she joined her husband Tom in Moose Jaw where she substitute taught in both public and Catholic school sectors while obtaining her second degree in Special Education.  She eventually accepted a permanent position with Cornerstone Christian School where she taught band, choir, and special education until she retired in 2015. 
Some highlights of her life include raising their three children with her husband of 48 ½ years, as a singer with the Esterhazy Treblemakers, director of the Timothy Eaton Moose Jaw Mix Senior Choir, workshop conductor for Muenster Choir camps, singer with the Swing' n Soul Singers (with her daughter), directing musicals in Esterhazy and Moose Jaw, as well teaching 35 piano students per year in Esterhazy prior to obtaining her primary education and special education degrees. 
Her hobbies included time with family and friends, camping, fishing, and bible-study.
Wendy was diagnosed with bladder cancer in 2016 which encompassed a journey like no other.  She and Tom courageously worked through the journey together.  Their love for each other, and the strength of their faith carried them through, noting that Mom was always able to embrace special moments of time with those around her.  As she was about to begin her final journey, Tom whispered in her ear "Let me know when you get there so I won't worry anymore."  The angels held out their hands and she let go of ours.  The Lord's arms embraced her soul and welcomed her into his kingdom.  
"Farewell Mom, farewell my love… farewell."
A Private Family Service will be held to honour Wendy.  Friends and Family are invited to view the service virtually on Friday, March 26th, 2021 at 1:00 p.m. by going to www.moosejawfuneralhome.com/webcast/.  Arrangements are entrusted to Moose Jaw Funeral Home, 268 Mulberry Lane.  Gary McDowell, Funeral Director 306-693-4550