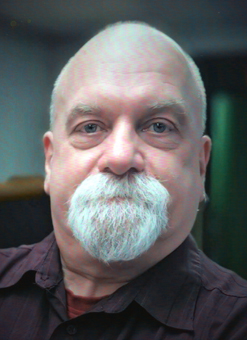 Garnett George Gleim, aged 57 years of Regina, SK passed away on Monday, November 16th, 2021.  He was predeceased by his father, Rynold (1987) and mother, Edith (2021).  Garnett is survived by his stepsons: Brad (Brittney) McInnis – granddaughters Alexis and Keira, Adam McInnis, and Cory McInnis; brothers: Murray, Ron (Brenda), and Dave; nieces and nephews: Kirt (Jenn) Gleim, Erin (Chris) Stephens, Tanya (Chase) Schafer, Nakita Gleim, and Savannah Gleim (Warren Sandor); as well as numerous extended family and friends.
Garnett was the youngest of four boys and grew up on the farm south of Chaplin, SK until moving to Chaplin with his mom and dad.  Garnett graduated in Chaplin and went on to the University of Saskatchewan, studying European History and English Literature.  He later attended Kelsey Institute taking Microcomputer Management.  Garnett worked at Settler Computer Technologies as a Software Programmer.  He later worked for Sask Wheat Pool IT Support, Regina Public School Board IT Services, Eden Care Communities as IT Administrator, and as an IT Specialist at Miller Thompson LLP to present.  Garnett lived and was employed in Regina, SK all his life.
Garnett was 13 when his older brother Murray purchased one of the first Radio Shack PC style computers in Saskatchewan.  He was by Murray's side back then and was learning programming and continued working with computers for the rest of his life.  Garnett was involved in Provincial, and more so, in Federal politics.  He worked on many Provincial campaigns and Federal leadership campaigns as well.  He worked with some good friends in the polling business providing them with IT work.
Garnett was involved with his boys as they grew up in Boy Scouts.  Garnett liked to travel and had some memorable trips with his family.  Garnett instilled his passion for reading and education into the boys and granddaughters.  He had an extended family of two black cats, Ricki and Julien, who were house companions for several years.
Garnett always watched out for different events to attend with the boys and family, from music concerts and festivals, to food truck show downs and sporting events.  Garnett held 2 Rider season tickets after Mosiac Stadium was built.  He shared his 2nd ticket with his boys, brothers, cousins and friends.  Garnett has many friends and was loved by his family.  He will be remembered for always being there for his family and friends, the constant love and support was ever present!
Garnett would end many of his personal emails with "Be the change you wish to see in the world".
The Funeral Service will be held on Wednesday, November 24th, 2021 at 2:00 p.m. in Moose Jaw Funeral Home.  The family is requesting that all who attend be fully vaccinated or have a negative Covid-19 test.  Masks must be worn in the Funeral Home.  Those unable to attend are invited to watch the service virtually by going to www.moosejawfuneralhome.com/webcast/.  Arrangements are entrusted to Moose Jaw Funeral Home, 268 Mulberry Lane.  Michelle Ellis, Funeral Director 306-693-4550