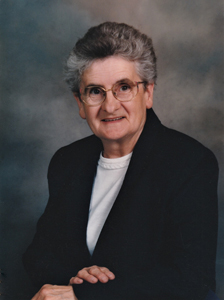 Edith Gleim (née: Wiese), aged 94 years of Chaplin, SK passed away peacefully with family by her side on Tuesday October 26th, 2021 at the Craik and District Health Care Centre.  She was predeceased by her husband, Rynold (1987); parents, Carl and Marie Wiese (née: Leader); sisters, Emma and Lillian; brothers: Walter, Albert, Henry, Hilbert, and Art; as well as many Wiese and Gleim in-laws.  Edith is survived by her loving family, sons: Murray, Ron (Brenda), Dave, and Garnett; grandchildren: Kirt (Jenn) Gleim, Erin (Chris) Stephens, Tanya (Chase) Schafer, Nakita Gleim, Savannah Gleim (Warren Sandor), Brad (Brittney) McInnis, Adam McInnis, and Cory  McInnis; 11 great-grandchildren; sister, Tillie Charbonneau (Regina, SK); brother-in-law, Alex (Darlene) Gleim, Parksville, BC; sisters-in-law, Mae Gleim (Eastend, SK) and Bernice Gleim (Moose Jaw); as well as many nieces and nephews from the Wiese and Gleim families.
Edith was the 8th of 9 children.  She was born in 1927 in Mendham, SK.  She went to school in the Frolich and Hollymont school divisions and attended high school in Leader.  Edith grew up in the 1930's on the farm near Mendham.  After high school Edith attended Moose Jaw Normal School (1945).  She taught school at Trent, Verlo, and Lavender School – all one-room schools.  She boarded at Henry and Annie Weinbender's farm south of Ernfold, SK while teaching at Lavender school.  This is where she met Annie's brother, Rynold Gleim.  They married on Nov 17th, 1946 at the Lutheran Mance in Herbert, SK.  They farmed and raised 4 boys south of Chaplin.  Edith was a devoted mom, an excellent cook and baker, a talented artist, a gifted seamstress, and was blessed with a green thumb.  She created many needlepoint works, not only for herself, but for others to keep as treasured family gifts.  Edith and Rynold were active square dancers in the 1960's and 70's.  She enjoyed dancing and loved music and had a large collection of her favourite songs handy.  Edith and Rynold moved into Chaplin in 1975.  They enjoyed spending time with their grandchildren and after Rynold passed away, Edith loved the company of her grandchildren and later on her great-grandchildren.  She shared so many good times, recipes and stories with them.  Edith loved her yard.  She was very proud of her flowers, shrubs, and bird feeders, and was forever changing brick paths in her backyard.
As Edith's health declined she moved into Iver Main Place in Central Butte, SK and later moved to the Craik and District Health Care Centre.  Edith enjoyed all the visits from family and friends.  The family is grateful to the staff at Iver Main and The Craik Health Care Centre for all the loving care given to Mom.
Edith was a loving wife, mom, sister, auntie, gramma, great-gramma, neighbour and will be missed by all who knew her.  A Private Family Memorial Service will be held on Wednesday, November 10th, 2021 at 2:30 p.m. at the Chaplin Lutheran Church with Pastor Marvin Seaborg officiating.  The service can be seen live by going to the Gleim Family Website at gleim.ca for more information. Also, a list of the charitable foundations will be included on the site.
In living memory of Edith, 2 memorial tree plantings will take place next spring at both the family farm site south of Chaplin and at Ron and Kirt's farm west of Chaplin.
Arrangements are entrusted to Moose Jaw Funeral Home, 268 Mulberry Lane.  James Murdock, Funeral Director 306-693-4550