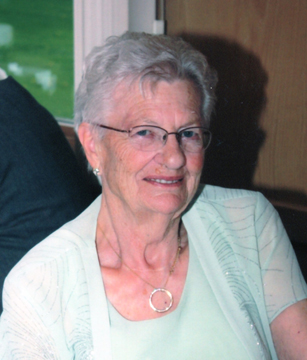 Lillian Glascock (Nee Arnold) aged 94 years of Moose Jaw, passed away Thursday, May 18, 2023.  Born on July 16, 1928 to Carl and Lydia Arnold at Shamrock, SK.  She was one of 11 brothers and sisters.  
Lillian was predeceased by her husband, Warren Glascock of 57 years; daughter, Cindy Mc Arthur; grandson, Dustin Mc Arthur; great grandson, Austin Haviland as well as two sisters and eight brothers.
She is survived and missed by her son, Dallas (Barb) Glascock; grandchildren: Tanya (Jason), Chad (Jen) and Jason; son, Daryll (Lois) Glascock; grandchildren: Steven (Heather), Michael (Jackie), Avery and Yvonne; daughter, Karen (Bert) Tucker; grandchildren: Nicole (Nathan) and Andrea (Joe); son in law, Brent Mc Arthur; grandchildren: Doug (Becky) and Amber (Caleb) and her many great grand children and nieces and nephews.
When she and Warren got married in 1949, they moved to a farm north of Shamrock.  Lillian was a hard worker and took pride in looking after her family.  She milked cows and grew a large garden. They enjoyed getting together with friends and family to play cards.
They moved to Moose jaw in 1979.  They were able to go on a few trips which included Hawaii and on a cruise.  Mom liked going to Bingo, the casino and playing cards, especially crib.  She enjoyed having her grandchildren at her house.
They moved to Victoria Towers for six years, then Lillian transitioned to Crescent Park Villa then to Chateau St. Michael's, which she loved.  She enjoyed looking out the window to the front lawn, hoping to see some deer.  She enjoyed watching curling and baseball as well.
Thank you to the many care workers who were very good to her.  Special thank you to Shelley, who was her friend and crib partner.
There will be a private graveside service for Lillian which will be held at a later date. Arrangements are entrusted to Moose Jaw Funeral Home, 268 Mulberry Lane.  Cara Ashworth Intern Funeral Director 306-693-4550