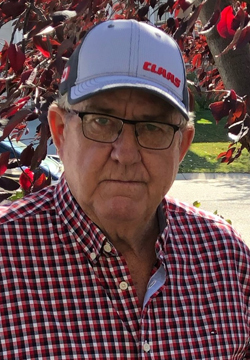 Steven Hugh Gilroy of Drinkwater, Saskatchewan suffered a heart attack and passed away unexpectedly on Sunday, January 15th, 2023 in Arizona at the age of 65 years. 
Steve was born on July 20th, 1957 in Regina, Saskatchewan to William and Dorothy Gilroy (née: Barr).  He grew up in Drinkwater along with his 4 siblings: Paul, Robin, Laurie and Marnie.  He attended school in Drinkwater until the school closed and he finished the rest of his schooling in Briercrest, Saskatchewan.  Steve established many special friendships growing up in a small town and continued to stay close with several of his childhood friends.  Upon graduation, Steve went to STI (Saskatchewan Technical School) and studied Motor Vehicle Mechanical Repair. 
On July 17th, 1976 Steve married his soul mate, Cathy June Gilroy (née: Pouteaux).  Steve never left his roots.  He and Cathy lived in Drinkwater and began to build their life together on a farm just outside of Drinkwater shortly after getting married.  They worked hard to grow their farm and it looks significantly different than it did 46 years ago when they started.  Steve's world consisted of Cathy, farming and family.  He was a simple man who cared greatly for his family and friends, even if he didn't always express it.  He was a man of few words, but always had a wise crack or sarcastic comment to share with those closest to him.
Steve and Cathy enjoyed going to Arizona where they were surrounded by friends and fun.  Steve spent the winter months playing crib, skeet shooting, listening to music on the green, reading, watching Westerns, and embarking on excursions and new adventures.  They shared many special moments and made lasting memories over the past 13 years in Arizona. 
Steve was a man who wanted to make sure those around him were always taken care of.  His family was always a priority and he loved getting everyone together.  He took pride in ensuring there was fun to be had on the farm.  His grandkids could be seen racing around on a golf cart, a side by side, bobcat or tractor.  He and his family spent time together swimming, hanging out in the shop or partaking in some sort of game.  He also loved watching his grandchildren play sports, even if it meant travelling province to province.  If they couldn't make a game they would do their best to live stream it from home.
He was predeceased by his parents, William and Dorothy Gilroy; and his wife, Cathy Gilroy.  Steve will be lovingly remembered by his children, Steven Gilroy Jr (Kerri Gilroy) and Brandy Gilroy (Jeff Mazurak); grandchildren: Raea, Kaitlyn, and Ryder Gilroy; Alex, Ben and Connor Mazurak.  He will be deeply missed by his siblings: brothers, Paul (Shelly) Gilroy and Robin (Wendy) Gilroy, and his sisters, Laurie (Guy) Jacobson and Marnie Gilroy (Harold Pouteaux); as well as sister-in-law, Sherry (Scott) Duncan and brother-in-law, Vern Pouteaux.  He leaves behind several nieces, nephews and family members that loved him very much. 
A Celebration of Steve's Life will be held on Monday, January 30th, 2023 at 1:30 p.m. in Moose Jaw Funeral Home.  Those unable to attend are able to view the service virtually by going to www.moosejawfuneralhome.com/webcast/.  Friends, family and the community are invited to celebrate Big Steve at the Eagles Club, 561 Home St W, Moose Jaw, SK following the funeral. Flowers are gratefully declined.  In lieu of flowers, donations in Steve's name may be made to the Drinkwater Community Club.  Arrangements are entrusted to Moose Jaw Funeral Home, 268 Mulberry Lane.  Andrew Pratt Funeral Director 306-693-4550